September 7, 2018
Sutthooru Raagi Kallu Pada Lyrics | Kannada Janapada Songs
Sutthooru Raagi Kallu Pada Lyrics | Kannada Janapada Songs: Sutthooru Raagi Kallu Pada is a Kannada folk known as Janapda Haadugalu in Karnataka. These songs were passed on from generation to generation, whose writers remain anonymous. These are the songs created by ordinary people but they have extraordinary emotion, feeling and devotion in them.
Sutthooru Raagi Kallu Pada is one such song, where the singer is remembering the gods while working in her raagi kallu a stone tool used to grind raagi. The beauty of this song is the devotion they have for their tools also. Sutthooru Raagi Kallu Pada have a beautiful north Karnataka slang in it.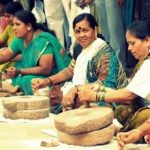 Song: Sutthooru Raagi Kallu Pada Lyrics
Genre: Folk / Janapada
Language: Kannada
Music: Janapada
Lyrics: Janapada
Singer: Various
Check out the lyrics here..
Sharanembe Shivanige
Sharanembe Guruveege
Sharanembe Shivana Madadige
Gowrammage Sharanembe Kallu Hididenu
Kal Hididu Nenedevu Kalyanadayyana
Billu Baanada Bidire
Rangayyana Sollu Sollige Nenedevu
Eegaane Kal Hoodi Heegaara Nenedevu
Ee Oora Gramadodeya Mallayya
Eeg Kal Hoodi Nenedevu
Doddaanekal Hoodi Hiryara Nenedevu
Dodda Gramada Garathiya Chikkammana
Hattikal Hoodi Nenedevu
Madhyana Nenedevu Madana Suvvariya
Madagadindaache Maneyol Gowrammage
Modala Sollige Nenedevu
Akki Oralige Huyda Appana Nenedevu
Akkamaadevi Girijeya Kenchammana
Makkalaivara Nenedevu
Kallamma Thaayi Mallamma Raagiya
Jaldi Jalaane Uduramma Naa Ninage
Doopadaarathiya Belegenu
Aarathi Belagi Berenellanendu
Dhoopada Beesi Bhanjadondu
Rasaathi Naamava Paadi Swaranondu
Aarathi Belage Paadava Nenevenu
Oliyavva Thayi Siridevi
Lakumiya Chinna Kalashava Idisenu
Belli Bettada Mele Kandenu Sirijavana
Lokada Maathe Girijaathe Parvathi
Ninna Dhyanadali Kande Koti Jangamara
Kote Koteya Kande
Korala Lingava Kande
Daatuttha Kande Gangammana
Jaathreli Kande Pariseya
Kalle Beeso Kalle Sakkare Oregalle
Appana Maneye Sirigalle Pachha Kalle
Bittarada Kalle Naniya
Raagi Beeso Kalle
Rathna Mutthina Kalle Pachha Kalle
Thobanada Kalle Kodu Dhaniya
Raagi Beeso Kalle
Rathna Mutthina Kalle
Suvvari Kalle Suligalle
Nadu Mane Bhagyada Kalle Kodu Daniya
Akki Beeso Kalle
Sakkare Pudigalle
Appaji Maneya Padakalle Kaili Hidiva
Gootada Kalle Kodu Dhaniya
Akki Beeso Kalle
Rathna Mutthina Kalle
Paathalu Kaanada Pathi Kalle
Patte Kalle Nana Baiyyora Edegalle
Raagi Mugidaavu Kaajaana Heccaavu
Naa Hidida Kelasa Vadagyaava
Raagi Kalle Naa Thoogi Biduva Bildaola
Thoogi Bittanendu Sityaake Saraswathiye
Kukkeri Raagi Chaliyaagali Raagi Thakkondu
Matthe Raathri Barutheeni
Kallu Bittenendu Ella Devara Keli
Kallu Kaveri Kapiniyu Nanjayya
Katbittu Kaiyya Mugidenu
Kallu Kattammage Ella Bhagyavu Barali
Pallakki Mele Maga Barali Aa Manege
Mooge Hoo Mudiyo Sose Barali
You may also like..
Nanna Gelathi Nee Nagathi
Gatti Manasu Maadi Guttonda Heluthini
Kadlimatti Ya Kashibaiya Sheelada Charithrya
Sutthooru Raagi Kallu Pada
Thingalu Mulugidavo Rangoli Belagidavo
Sojugada Sooju Mallige
Comments
comments