December 30, 2017
Vanadevi Preetiya Lyrics
Vanadevi Preetiya Lyrics: Vanadevi Preetiya is a song from an upcoming 2018 Kannada movie Kichchu, directed by Pradeep Raj of Kirataka and Rajanikantha fame. The film was produced by M Anthony Pradeep under the banner Indirajal Advertisement solutions.
Kichchu features Dhruv Sharma, Ragini Dwivedi, Abhinaya, Sai Kumar, Suchendra Prasad and Sudeep in special appearence. Aanand Audio is the music label of this movie. This song was composed by Arjun Janya with lyrics penned by Ghouse Pheer. Vanadevi Preetiya was rendered by Vijay Prakash.
This song is about nature.  Its about forest and its beauty. good lyrics with lot of nature in it. The song describes forest with all its beauty and all the natural elements like mountains, sun, greenery,  birds, trees, river, rainbow and so on. a good song with some good lyrics by Ghouse Pheer. Vijay Prakash should get more songs like this rather only entertaining songs.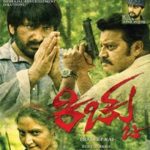 Vanadevi Preetiya Lyrics
Album: Kichchu [2017]
Music Label: Aanand Audio
Music: Arjun Janya
Lyrics: Ghouse Pheer
Singer: Vijay Prakash
Check out the lyrics here..
Vanadevi Preetiya Vandane..
Hegantha Maadali Varnane..
Mana Soore Maadaballa
Swargaane Illide
Thangaali Edeyanu Tumbide..
Muddaagi Hasiru Hoddu
Bhoomeene Nagutide
Nambalu Aagada
Vismaya Ninnade
Vanadevi Preetiya Vandane..
Hegantha Maadali Varnane..
Maleya Billigu
Ninna Nodo Aase Athiyagi Bandu
Neeli Baanali Moodide..
Kempu Sooryana
Hongirana Kooda Dhareyalli Modalu
Ninna Sparshava Maadide..
Mayuri Siri Narthana Illide
Kaichaachi Giri
Mugilanu Thaakide
Endigu Maasada
Chaitravu Ninnade
Oho Ho Nakku Nagisutha
Iruvashtu Kaala Kushiyaagi Baali
Endu Hoovidu Helide..
Daaha Neegalu
Mudipittu Thanna Badukannu Nadiyu
Entha Thayagava Maadide
Shriganda Sada Kampu Chellaadide
Kasthuri Gama Kusumava Haradide
Kogile Naidile
Darshana Illide
Vanadevi Preetiya Vandane
Hegantha Maadali Varnane
Hmm Hmm..
Kichchu Songs Lyrics
Mylekunthaa Madesha
Spandana
Vanadevi Preetiya
Ughey Ughey
Comments
comments