July 17, 2021
Dilip Kumar Vyjayanthimala Movies List | Hindi Cinema
Dilip Kumar Vyjayanthimala Movies List | Hindi Cinema: The pair of Legendary actors Dilip Kumar and Vyjayanthimala had produced some iconic movies in the history of Hindi Cinema. Even though they have acted together in only seven films, whenever they came together they created magic.
Actor Dilip Kumar [Mohammed Yusuf Khan], made his acting debut in the debuted 1944 Hindi film 'Jwar Bhata' directed by Amiya Chakravarty. In a career spanning over five decades, Dilip Kumar worked in over 65 films. He is considered as one of the best actors of India. He had a distinct acting style that was way ahead of his time.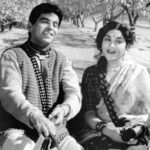 Actress Vyjayanthimala made her film debut with the Tamil film Vaazhkai (1949) at the age of 16. Her first Hindi film was Bahar (1951), directed by M. V. Raman. She paired with actor Dilip Kumar in the 1955 film Devdas, which garnered her critical acclaim. The pair of Dilip Kumar and Vyjayanthimala, went to act together in 7 films.
In this article we have made an attempt to list out 'Dilip Kumar Vyjayanthimala Hindi Movies'. Lets check out the list..
Dilip Kumar Vyjayanthimala Movies List
1. Devdas [1955]
Release date: December 30, 1955
Directed by: Bimal Roy
Based on: Devdas by Sharat Chandra Chattopadhyay
Music: Sachin Dev Burman
Lyrics: Sahir Ludhianvi
Cast: Suchitra Sen, Motilal, Nazir Hussain
Banner: Bimal Roy Productions
2. Naya Daur [1957]
Release On: 15 August 1957
Directed by: B. R. Chopra
Written by: Akhtar Mirza
Music: O. P. Nayyar
Lyrics: Sahir Ludhianvi
Cast: Ajit Khan, Jeevan, Johnny Walker
Production company: B. R. Films
3. Madhumati [1958]
Release On: September 12, 1958
Directed by: Bimal Roy
Written by: Ritwik Ghatak
Music by: Salil Chowdhury
Lyrics: Shailendra
Cast: Johnny Walker, Pran, Jayant
Production company: Bimal Roy Productions
4. Paigham [1959]
Release On: 30 October 1959
Directed by: S. S. Vasan, Ramanand Sagar
Written by: Ramanand Sagar
Music: C. Ramchandra
Lyrics: Pradeep
Cast: Pandari Bai, Saroja Devi
Produced by: B. Nagi Reddy
5. Ganga Jamna [1961]
Director: Nitin Bose
Dialogue: Wajahat Mirza
Music: Naushad
Lyrics: Shakeel Badayuni
Cast: Nasir Khan, Aruna Irani, Azra
Banner: Mehboob Studio, Filmistan
6. Leader [1964]
Director: Ram Mukherjee
Screenplay: Harish Mehra
Music: Naushad
Lyrics: Shakeel Badayuni
Cast: Nazir Hussain, Leela Mishra
Produced by: Sashadhar Mukherjee
7. Sunghursh [1968]
Director: Harnam Singh Rawail
Story: Layli Asmaner Ayna by Mahasweta Devi
Music by: Naushad
Lyrics by: Shakeel Badayuni
Cast: Balraj Sahni, Sanjeev Kumar, Jayant
Production Company: Rahul Theatre
List of Dilip Kumar and Vyjayanthimala Hindi Movies
| | | |
| --- | --- | --- |
| Movie | Year | Director |
| Devdas | 1955 | Bimal Roy |
| Naya Daur | 1957 | B. R. Chopra |
| Madhumati | 1958 | Bimal Roy |
| Paigham | 1959 | S. S. Vasan, Ramanand Sagar |
| Ganga Jamna | 1961 | Nitin Bose |
| Leader | 1964 | Ram Mukherjee |
| Sunghursh | 1968 | Harnam Singh Rawail |
Comments
comments