September 15, 2020
Sahasa Simha Dr Vishnuvardhan Double Triple Role Kannada Movies List
Sahasa Simha Dr Vishnuvardhan Double Triple Role Kannada Movies List: Sahasa Simha Dr Vishnuvardhan is a unforgettable name in the History of Kannada Cinema. He acted in 200 feature films in most of them in Kannada and few in other languages like Tamil, Telugu, Malayalam and Hindi.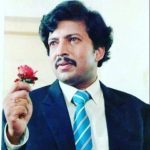 He made his acting debut in the 1972 film, Vamsha Vriksha directed by Girish Karnad, in which he played a minor role. Director Puttanna Kanagal's Naagarahaavu made Vishnuvardhan a star. What followed next is history. He portrayed various roles in different genres.
He had done double roles in nineteen Kannada movies and triple roles in two Kannada films. On the occasion of Dr Vishnuvardhan's birthday, Team Lyricsraaga has made an attempt to list out Sahasa Simha Dr Vishnuvardhan Double or Triple Role Kannada Movies. Happy Birthday Abhinava Bhargava Dr Vishnuvardhan.
Lets look at the films in which Dr Vishnuvardhan acted in more than one roles.
1. Onde Roopa Eradu Guna [1975]: Onde Roopa Eradu Guna is a 1975 Kannada film in which actor Vishnuvardhan portrayed double role for the first time. This film directed by A. M. Sameevulla, had vishnuvardhan in the role of Ashok.
The film featured an ensemble cast of Vishnuvardhan, Ambarish, Balakrishna, Narasimharaju, Shivaram, Sampath, Chandrashekhar, Bhavani, Chandrakala, Bharathi and others. Salil Chowdhury composed the songs of this film.
2. Vijay Vikram [1979] : Vijay Vikram is a 1979 Kannada film, directed by V. Somashekhar and produced by A. R. Raju. The film features Vishnuvardhan in double role of Vijay and Vikram. Other cast members includes Jayanthi, Deepa, Leelavathi, Dwarakish, K. S. Ashwath, Pramila Joshai and others. Chellapilla Satyam was the music director of this film.
3. Kalinga [1980] : Kalinga is a 1980 Kannada film starring Vishnuvardhan in dual role. This film was a remake of 1976 Hindi movie Kalicharan starring Shatrughan Sinha and Reena Roy in the lead.
Klainga Kannada film was directed by V. Somashekhar and produced by Srikanth Nahatha. The rest of the cast of Kalinga includes Rati Agnihotri, Udaykumar, Vajramuni, Sampath, Tiger Prabhakar, Dinesh, Thoogudeepa Srinivas, Shakti Prasad, and others. Lyricists Chi. Udaya Shankar and R. N. Jayagopal wrote the lyrics and Chellapilla Satyam composed the songs.
Check out Sahasa Simha Dr Vishnuvardhan Double Triple Role Kannada Movies List
| | | | |
| --- | --- | --- | --- |
| Year | Movie | Director | Role |
| 1975 | Onde Roopa Eradu Guna | A. M. Samiullah | DR |
| 1979 | Vijay Vikram | V. Somashekhar | DR |
| 1980 | Kaalinga | V. Somashekhar | DR |
| 1981 | Naga Kala Bhairava | Tiptur Raghu | DR |
| 1982 | Oorige Upakari | S. M. Joe Simon | DR |
| 1983 | Sididedda Sahodara | S. M. Joe Simon | DR |
| 1987 | Sowbhagya Lakshmi | H. R. Bhargava | DR |
| 1987 | Sathyam Shivam Sundaram | K. S. R. Das | TR |
| 1988 | Daada | P. Vasu | DR |
| 1990 | Shivashankar | H. R. Bhargava | DR |
| 1991 | Lion Jagapathi Rao | Om Sai Prakash | DR |
| 1991 | Police Mathu Dada | Thulsi-Shyam | DR |
| 1994 | Kiladigalu | Dwarakish | DR |
| 1996 | Mojugara Sogasugara | Vijay | DR |
| 1996 | Appaji | D. Rajendra Babu | DR |
| 1999 | Surya Vamsha | S. Narayan | DR |
| 2000 | Yajamana | R. Sheshadri | DR |
| 2001 | Diggajaru | D. Rajendra Babu | DR |
| 2002 | Jamindaru | S. Narayan | DR |
| 2002 | Simhadriya Simha | S. Narayan | TR |
| 2010 | Aptharakshaka | P. Vasu | DR |
* Note: DR : Double Role, TR : Triple Role
Comments
comments