January 22, 2019
Naane Emba Bhava Naasha Song Lyrics | Devara Duddu
Naane Emba Bhava Naasha Song Lyrics | Devara Duddu: Naane Emba Bhava Naashavaayithu is a hit song from the 1977 Kannada film Devara Duddu, directed by K. S. L. Swamy and produced by N Rani under the banner Rani Arts. The stroy was written from the play written by Tamil lyricist and great poet Vaali, screenplay was written by K. A. Natarajan and dialogues were penned by Narendra Babu.
Devara Duddu features Rajesh, Srinath, Jayanthi, Chandrashekar, Balakrishna, Dwarakish, Hema Choudhary, Manorama, Lokanath, Ashwath Narayan and others.
Devara Duddu was a remake of 1974 Tamil film Kaliyuga Kannan starring Jaishankar, Jayachitra and Thengai Srinivasan in the lead roles and the film directed by Krishnan–Panju. This film was also remade in Hindi as Yehi Hai Zindagi in 1977 featuring Sanjeev Kumar, Seema Deo and others.
Naane Emba Bhava Naasha Song Lyrics was written by Hunsur Krishna Murthy and this song was composed by music director duo Rajan-Nagendra. Legendary playback singer P. B. Srinivas had rendered this song soulfully. Saregama is the music label of this movie.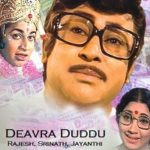 Naane Emba Bhava Naasha Song Lyrics
Movie: Devara Duddu [1977]
Music by: Rajan-Nagendra
Lyrics by: Hunsur Krishna Murthy
Singer: P. B. Srinivas
Music Label: Saregama
Check out the lyrics here..
Krishna
Hey Krishna..
Krishna..
Gaaliya Patadanthe Naanayya..
Aadiso Soothrdhaari Neenayya..
Olagina Kannannu Theresideyo
Heetheya Marmava Thilisideyo
Olagina Kannannu Theresideyo
Heetheya Marmava Thilisideyo
Naane Emba Bhava Naashavaayithu
Neene Emba Neethi Nijavaayithu
Naane Emba Bhava Naashavaayithu
Neene Emba Neethi Nijavaayithu
Sri Krishna A.. Sri Krishna
Helida Neethiya Kelade Hode
Keli Nadeyade.. Avivekiyaade
Ellavu Naanu Nannade Endu
Nambidenayyo.. Shashvathavednu
Ellavu Sullu.. Ellavu Sullu..
Thildenu Endu
Naanu Mithya Neenu Sathya
Olagina Kannannu Theresideyo
Heetheya Marmava Thilisideyo
Olagina Kannannu Theresideyo
Heetheya Marmava Thilisideyo
Naane Emba Bhava Naashavaayithu
Neene Emba Neethi Nijavaayithu
Naane Emba Bhava Naashavaayithu
Neene Emba Neethi Nijavaayithu
Sri Krishna aa.. Sri Krishna
Hendathi Makkalu Bandhu Balaga
Raga Bhogagala Vaibhoga
Kaalanu Bandu Baa Endaaga
Ellavu Shoonyavu Chite Eruvaaga
Ella Shoonya Elavu Shoonya
Uliyuvudonde Dhaana Dharma Thanda Punya
Olagina Kannannu Theresideyo
Heetheya Marmava Thilisideyo
Olagina Kannannu Theresideyo
Heetheya Marmava Thilisideyo
Naane Emba Bhava Naashavaayithu
Neene Emba Neethi Nijavaayithu
Comments
comments