December 18, 2018
Tirupati Girivasa Shree Venkatesha Lyrics | Sri Krishnadevaraya
Tirupati Girivasa Shree Venkatesha Lyrics | Sri Krishnadevaraya: Tirupati Girivasa Shree Venkatesha is a famous Kannada devotional song from the 1970 Kannada Historical movie Sri Krishnadevaraya, produced and directed by B. R. Panthulu under the banner Padmini Pictures.
This song was composed by music director T. G. Lingappa with lyrics penned by Kanagal Prabhakara Shastry. Tirupati Girivasa Shree Venkatesha song was soulfully rendered by legendary playback singers P. B. Sreenivas, P. Susheela and S. Janaki.
Sri Krishnadevaraya features Dr. Rajkumar as Krishnadevaraya, an emperor of the 16th century Vijayanagara Empire along with Jayanthi, Bharathi, Narasimharaju, R. Nagendra Rao, B. R. Panthulu, Sudarshan, M. V. Rajamma, Mynavathi, Vijayasree, Chindodi Leela, Dinesh, Nagappa, B. Jaya, Ramachandra Shastry, M. G . Marirao, B. Raghavendra Rao, Hanumanthachar, Rajaram Giriyan, Suryakumar, M. S. Subbanna, Pandurangi Ramacharya, Hanumantharao, Mahadevaiah, Basappa, B. Mahadev, Rama Rao, Guggu, Indira Jorge, H T Urs, Dayanand, Jayalakshmi, Santhoshnagar, V R Lakshmi, Kala, Sathya, Master Krishnakumar, Master Rajaguru, Master Mukunda, Baby Padmashree, Baby Asha, Baby Sunanda and others. Saregama is the music label of this film.
This song starts with a shloka 'kalyana Adbhuta Gaatraya' which means 'Lord Srinivasa! You wear the signs of auspiciousness on Your wonderful Body to convey that hearing Your glory bestows all wealth and worshiping. You create the light of Knowledge that leads Your devotees to Your abode. Salutations to you.'
This beautifully composed song with great lyrics praising lord Srinivasa of Thirupathi was soulfully rendered by the singers. listen to this song and share your thoughts.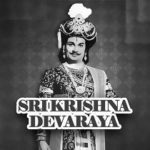 Tirupati Girivasa Shree Venkatesha Lyrics
Movie: Sri Krishnadevaraya [1970]
Audio Label: Saregama
Music by: T. G. Lingappa
Lyrics by: K. Prabhakara Shastry
Vocals: P. Susheela, P. B. Sreenivas, S. Janaki
Check out the lyrics of this song here..
Tirupati Girivasa Shree Venkatesha
Tirupati Girivasa Shree Venkatesha
Neenolida Mane Maneyu Lakshmi Nivaasa
Neenolida Mane Maneyu Lakshmi Nivaasa
Tirupati Girivasa Shree Venkatesha
Shree Venkatesha Hree Venkatesha
Akhilaanda Koti Bramhanda Paala
Akhilaanda Koti Bramhanda Paala
Alamelu Managammanollaasa Lola
Alamelu Managammanollaasa Lola
Thirupati Girivaasa Sri Venkatesha
Sri Venkatesha Sri Venkatesha
Pankaja Lochana Pathikoddhaara
Sankataharana Sudharasadhaara
Shanka Chakradhara Srikara Sundara
Nithya Vinoothana Saakshatkaara
Veda Shastra Saara..
Sakala Soothradhaara..
Shirasa Namami Manasashmaraami
Tirupati Girivasa Shree Venkatesha
Tirupati Girivasa Shree Venkatesha
Neenolida Mane Maneyu Lakshmi Nivaasa
Tirupati Girivasa Shree Venkatesha
Shree Venkatesha Hree Venkatesha
Sri Krishnadevaraya [1970] Kannada Movie Songs List
Song: Sharanu Virupaksha Shashishekara
Lyrics: K. Prabhakara Shastry
Vocals: S. Janaki
Song: Tirupatigirivasa
Lyrics: K. Prabhakara Shastry
Vocals: P. Susheela, P. B. Sreenivas, S. Janaki
Song: Bahu Janmada Pooja Phala
Lyrics: K. Prabhakara Shastry
Vocals: P. B. Sreenivas, S. Janaki
Song: Sri Chamundeshwari
Lyrics: K. Prabhakara Shastry
Vocals: P. Leela, Sirkazhi Govindarajan
Song: Chennarasi Cheluvarasi
Lyrics: K. Prabhakara Shastry
Vocals: S. Janaki, P. Leela
Song: Makkal Nakkare
Lyrics: K. Prabhakara Shastry
Sirkazhi Govindarajan
Song: Krishnana Hesare Lokapriya
Lyrics: Vijaya Narasimha
Vocals: Soolamangalam Rajalakshmi, P. B. Sreenivas, S. Janaki
Song: Baa Veera Kannadiga
Lyrics: Vijaya Narasimha
Vocals: Pithapuram Nageswara Rao
Song: Khana Peena
Lyrics: Pandit Deepak Chakravarti
Vocals: S. Janaki
Comments
comments