April 16, 2018
Bhaaga Pirivinai Songs Lyrics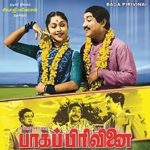 Bhaaga Pirivinai Songs Lyrics: Bhaaga Pirivinai is a 1959 Tamil movie Bhaaga Pirivinai, directed by A. Bhimsingh. story and screenplay were written by M. S. Solaimalai. The film was produced by G. N. Velumani under the banner Saravana Films. Bhaaga Pirivinai features Sivaji Ganesan, B. Saroja Devi, M. R. Radha, M. N. Nambiar, T. S. Balaiah, S. V. Subbaiah, M. V. Rajamma, C. K. Saraswathi, K. M. Nambirajan, S. Ramarao, N. Lalitha, C.T. Rajakantham and others. This film won national film awards 1959.
The film was remade into several other Indian languages. The film was remade in Kannada as Muriyada Mane starring Rajkumar, in Hindi as Khandan, in Telugu as Kalasi Vunte Kaladu Sukham featuring N. T. Rama Rao and Kamal Hasan acted in the Malayalam remake Nirakudam.
Saregama music label of this movie. All songs of this movie was composed by Viswanathan–Ramamoorthy with lyrics penned by Kannadasan, A. Maruthakasi and Pattukkottai Kalyanasundaram. Singers T. M. Soundararajan, P. Suseela, Seerkazhi Govindarajan, A. L. Raghavan, P. Leela and K. Jamuna Rani rendered their voices to the songs of this album. This album contains beautiful songs.
Check out the lyrics here..
En Piranthaai Magane Lyrics
Movie: Bhaaga Pirivinai [1959]
Music Label: Saregama
Music: Viswanathan–Ramamoorthy
Lyrics: Kannadasan
Singer: T. M. Soundararajan
Thangatthile Oru Kurai Irundhaalum Lyrics
Movie: Bhaaga Pirivinai [1959]
Music Label: Saregama
Music: Viswanathan–Ramamoorthy
Lyrics: Kannadasan
Singer: P. Suseela
Paalootri Uzhavu…. Therodum Indha Seeraana Lyrics
Movie: Bhaaga Pirivinai [1959]
Music Label: Saregama
Music: Viswanathan–Ramamoorthy
Lyrics: Kannadasan
Singers: T. M. Soundararajan, P. Leela
Thalaiyaam Poo Mudichu Lyrics
Movie: Bhaaga Pirivinai [1959]
Music Label: Saregama
Music: Viswanathan–Ramamoorthy
Lyrics: Kannadasan
Singers: T. M. Soundararajan, P. Leela
Aanai Mugatthone…. Pillaiyaaru Koyilukku Lyrics
Movie: Bhaaga Pirivinai [1959]
Music Label: Saregama
Music: Viswanathan–Ramamoorthy
Lyrics: Pattukkottai Kalyanasundaram
Singers: T. M. Soundararajan, P. Leela
Aattatthile Palavagai Undu Lyrics
Movie: Bhaaga Pirivinai [1959]
Music Label: Saregama
Music: Viswanathan–Ramamoorthy
Lyrics: Pattukkottai Kalyanasundaram
Singers: A. L. Raghavan, K. Jamuna Rani
Otrumaiyaai Vaazhvadhaale Undu Nanmaiye Lyrics
Movie: Bhaaga Pirivinai [1959]
Music Label: Saregama
Music: Viswanathan–Ramamoorthy
Lyrics: A. Maruthakasi
Singers: Seerkazhi Govindarajan, L. R. Eswari
Comments
comments