June 27, 2022
Masala Araikura Maina Lyrics
Masala Araikura Maina Lyrics: Masala Araikura Maina is a song from the 1994 Tamil film 'Seevalaperi Pandi', directed by Prathap Pothan and written by K. Rajeshwar.
The film was based on the real life incidents of a person called Seevalaperi Pandi. This film was produced by P. G. Srikanth under the banner Radhi Films.
Seevalaperi Pandi Tamil movie features Napoleon, Saranya, Ahana, Chandrasekhar, Nizhalgal Ravi, Vijayachander, R. P. Viswam, Alex, Suryakanth, Venniradai Moorthy, Prasanna Kumar, Charle, Chinni Jayanth, Nellai Siva, G. D. Ramesh, Madhan Gabriel, Rangammal, Rajan, Idichapuli Selvaraj, Sathyapriya, Master Dinesh, Baboos, Silk Smitha, John Babu, and others.
Masala Araikura Maina Song Lyrics were penned by famous lyricist Vairamuthu and the song was composed by music director Adithyan. This song was sung by playback singers Mano and Asha Latha. Sony Music South is the music label of this film.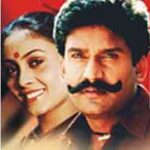 Masala Araikura Maina Song Lyrics
Movie: Seevalaperi Pandi [1994]
Music: Adithyan
Singers: Mano, Asha Latha
Lyrics: Vairamuthu
Music Label: Sony Music South
Check out 'Masala Araikura Maina Song Lyrics' here
Ye Masala Araikura Maina
Un Mathalaam Enna Vilai
Maarappu Vazhukkura Mayile
Un Malligaipoo Enna Vilai
Nee Porndha Thedhiyil
Adiyae Enakku
Budhdhi Maari Pochu
Nee Samanja Thedhiyil
Adiyae Enakku
Thookam Tholanju Pochu
Amaam Thookam Tholanju Pochu
Thinakku Thina
Ye Masala Araikura Maina
Un Mathalaam Enna Vilai Haan
Maarappu Valukkura Mayilae
Un Malligaipoo Enna Vilai
Seevalaperi Muthamitta
Sendhur Varaikkum Ketkaadha
Thinakku Tha
Anaikka Naanum Idam Kodutha
Elumbu Kilumbu Irukkadha
Un Valavi Sathyham Ketkaiyile
En Vayasu Innum Kuraiyadhaa
Unna Vaari Eduthu Suruti Kolla
En Vaaliba Narambum Thudikadha
Kichu Kichu Mootum
Ahaan
Keezha Dhisai Kaathu
Aiyaiyoo
Vambhu Thumbu Venam
Mmm
Nee Vacha Kuri Maaththu
Haaa
Yeppo..
Ye Masaala Araikkura Maina
Un Mathalaam Enna Velai
Maarappu Valukkura Mayile
Un Malligaipoo Enna Velai
Thaamira Barani Thanniyile
Thangatha Urasi Vittadhu Pol
Aaha.. Adi Nelinji Nelinji Poravale
Nethikku Chutti Naan Tharavaa
Nethikku Sutti Vaangi Putta
Othaikku Oththa Vara Solluva
Un Mutta Kanukku Theriyaama
Naan Mudinju Vechadha Thara Solluva
Paththa Madai Paayil
Hmmm
Pandhi Veikka Venum
Ahaa
Paththa Veikka Vandha
Yei
Oththuzhaikka Venum
Dinguru Dinguru Dinguru Dingura
Ye Masaala Araikkura Maina
Un Mathalaam Enna Vilai
Adi Maarappu Valukkura Mayilae
Un Malligaipoo Enna Vilai
Nee Porntha Thedhiyil
Adiyae Enakku
Puththi Maari Pochu
Nee Samanja Thedhiyil
Adiyae Enakku
Thookam Tholanju Pochu
Amaam Thookam Tholanju Pochu
Aamooi Thookam Tholanju Pochu
Seevalaperi Pandi [1994] Songs List
Kelakku Sevakaiyile
Singers: Rajagopal, Sujatha Mohan, P. G. Srikanth
Lyrics: K. Rajeswar
Aruvi Onnu Kudhikudhu
Singer: Swarnalatha
Lyrics: Vairamuthu
Masala Araikura Maina
Singers: Mano, Asha Latha
Lyrics: Vairamuthu
Oyila Paadum Paatula
Singer: K. S. Chithra
Lyrics: Vairamuthu
Tirunelveli Seemayile
Singer: S. P. Balasubrahmanyam
Lyrics: Vairamuthu
Comments
comments