June 27, 2022
Tirunelveli Seemayile Song Lyrics
Tirunelveli Seemayile Song Lyrics: Tirunelveli Seemayile is a song from the 1994 Tamil film 'Seevalaperi Pandi', directed by Prathap Pothan and written by K. Rajeshwar.
The film was based on the real life incidents of a person called Seevalaperi Pandi. This film was produced by P. G. Srikanth under the banner Radhi Films.
Seevalaperi Pandi Tamil movie features Napoleon, Saranya, Ahana, Chandrasekhar, Nizhalgal Ravi, Vijayachander, R. P. Viswam, Alex, Suryakanth, Venniradai Moorthy, Prasanna Kumar, Charle, Chinni Jayanth, Nellai Siva, G. D. Ramesh, Madhan Gabriel, Rangammal, Rajan, Idichapuli Selvaraj, Sathyapriya, Master Dinesh, Baboos, Silk Smitha, John Babu, and others.
Tirunelveli Seemayile Song Lyrics were penned by famous lyricist Vairamuthu and the song was composed by music director Adithyan. This song was sung by playback singer S. P. Balasubrahmanyam . Sony Music South is the music label of this film.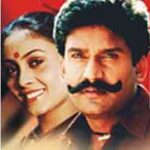 Tirunelveli Seemayile Lyrics
Movie: Seevalaperi Pandi [1994]
Music: Adithyan
Singers: S. P. Balasubrahmanyam
Lyrics: Vairamuthu
Music Label: Sony Music South
Check out 'Tirunelveli Seemayile Lyrics' here
Tirunelveli Seemaiyile
Seevalaperi Paandiyada
Tirunelveli Seemaiyile
Seevalaperi Paandiyada
Kulam Kaaka
Mannin Gunam Kaaka
Namma Paandi Paandi
Vandhaan Ayyaa
Hey Pulithevan Poranthathu
Indha Mannu
Pala Por Kandu Jeyichathu
Indha Mannu
Nalla Kaadhal Sonnathu
Indha Mannu
Andha Karpukku Ninnadhu
Indha Mannu
Inga Maanam Veeram Thaan
Rendu Kannu
Tirunelveli Cheemaiyile
Seevala Peri Paandiyada
Kulam Kaaka
Mannin Gunam Kaaka
Namma Paandi Paandi
Vandhaan Aiyaa
Hey Ulululululu
Hey Ulululululuu
Thaananana Heyy Eyyy
Thaananana Heyy Eyyy
Palayankottaiyile
Paandi Paya Per Sonna
Kuththaala Aruvikke
Kuppunu Verthirumma
Naangu Neeriyile
Paandi Paya Kambeduthaa
Sankaran Koyilpoora
Sarkaar Vandi Oodatha
Oor Oor Oor
Ivan Pakkam Irukka
Thae Thae Thae Thae
Thaeru Per Irukku
Nenjinullae Irukku
Needhimandram Edhukku
Nalla Kaalam Irukku
Nam Oorukku
Tirunelveli Cheemaiyile
Seevalaperi Paandiyada Doi
Kulam Kaaka
Mannin Gunam Kaaka
Namma Paandi Paandi
Vanthaan Aiyaa
Tamilan Aasthiyellam
Thanmaanam Thaanda
Thaamira Barani Thanni
Kudichavan Naan Daa
Ponnum Porum Vandha
Porkalam Than Povvenda
Oruthan Nambi Vanthaa
Uyir Kudukkum Dhevan Daa
Soi Soi Soi Soi
Sutha Ratham Vazhga
Soi Soi Soi Soi
Soori Kathi Vaazhga
Sathiyangal Vaazhga
Saadhi Sanam Vaazhga
Thenpaandi Seemaiye
Nee Vaazhgavae
Ada Tirunelveli Seemaiyile
Seevala Peri Paandiyada.. Aha Haa
Kulam Kaaka
Mannin Gunam Kaaka
Namma Paandi Paandi
Vanthaan Aiyaa
Hey Pulithevan Poranthathu
Intha Mannu
Pala Por Kandu Jeyichathu
Intha Mannu
Nalla Kaadhal Sonnathu
Intha Mannu
Andha Karpukku Ninnadhu
Intha Mannu
Inga Maanam Veeram Thaan
Rendu Kannu
Tirunelveli Seemaiyilae
Seevala Peri Paandiyada
Kulam Kaaka
Mannin Gunam Kaaka
Namma Paandi Paandi
Vandhaan Ayyaa
Seevalaperi Pandi [1994] Songs List
Kelakku Sevakaiyile
Singers: Rajagopal, Sujatha Mohan, P. G. Srikanth
Lyrics: K. Rajeswar
Aruvi Onnu Kudhikudhu
Singer: Swarnalatha
Lyrics: Vairamuthu
Masala Araikura Maina
Singers: Mano, Asha Latha
Lyrics: Vairamuthu
Oyila Paadum Paatula
Singer: K. S. Chithra
Lyrics: Vairamuthu
Tirunelveli Seemayile
Singer: S. P. Balasubrahmanyam
Lyrics: Vairamuthu
Comments
comments