August 28, 2023
Nandri Unakku Cholla Lyrics
Nandri Unakku Cholla Lyrics: Nandri Unakku Cholla is a song from the 1993 Tamil movie 'Uthama Raasa', written and directed by Raj Kapoor, produced by K. Balu under the banner K. B. Films.
Uthama Raasa [1993] Tamil film features Prabhu, Khushbu, Radha Ravi, Raja, Goundamani, Senthil, Vaishnavi, Manorama, S. N. Lakshmi, Charle, Thyagu, Sethu Vinayagam, Senthamarai, Venkatesh, Boobathi Raja, Manikkaraj, Durga,Shanthi, Chandrika, Bindhu, Pandiyan, and others.
Nandri Unakku Cholla song lyrics were penned by Kavignar Vaali and the song was composed by maestro Ilaiyaraaja. This song was sung by playback singer Malaysia Vasudevan.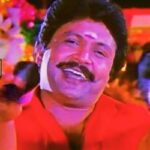 Nandri Unakku Cholla Lyrics
Movie: Uthama Raasa [1993]
Music: Ilaiyaraaja
Lyrics: Vaali
Singers: Malaysia Vasudevan
Music Label: Music Master
Check out 'Nandri Unakku Cholla Lyrics' here..
Nandri Unakku Cholla
Vaarthai Illai Maariye
Nenjil Neranju Nikkum
Aayiram Kan Sooliye
Manja Neer Thelikkudhammaa
Oor Sananga Koodiye
Mangalam Koduppavale
Kunguma Chingaariye
Thottiyam Kaali Endru Thulangidum Thaaye
Soolakkal Maari Endru Pugazh Padaithaaye
Nandri Unakku Cholla
Vaarthai Illai Maariye
Nenjil Neranju Nikkum
Aayiram Kan Sooliye
Manja Neer Thelikkudhammaa
Oor Sananga Koodiye
Mangalam Koduppavale
Kunguma Chingaariye
Adichu Pudichu Kidandha Oorukkulle
Nalla Arivai Koduthu Inaicha Umaiyavale
Umaiyavalae
Manushan Nenachu Edhu Thaan Nadakkumadi
Undhan Nenappu Edhuvo Adhu Thaan Nigazhumadi
Nigazhumadi
Nallorkku Theengizhachaa Kaappaval Neeye
Pollaadha Kobam Kondu Pongidum Thaaye
Kodaanu Kodiyilae Naanum Un Saeyae
Kai Pillai Kai Vanangum Sakthiyae Maaye
Veappilaiyil Aadai Katti Veetrirukkum Ambigaiye
Mukkonathil Ukkaandhidum Magamaayi
Nandri Unakku Cholla
Vaarttai Illai Maariyae
Nenjil Neranju Nikkum
Aayiram Kan Sooliyae
Manja Neer Thelikkudhammaa
Oor Sananga Koodiyae
Mangalam Koduppavalae
Kunguma Chingaariyae
Padathai Virithu Paambum Kudai Pidikkum
Kilai Padarndhu Adarndha Vaembum Nizhal Kodukkum
Nizhal Kodukkum
Adadaa Azhagin Azhagaai Koluvirukkum
Undhan Adiyai Panindhae Vanangi Ulagirukkum
Ulagirukkum
Panneeru Sandhanathil Theerthamum Aadi
Annaadam Elumichaiyil Maalaiyum Soodi
Karpoora Jothiyai Thaan Yaetridum Dhevi
Kan Vendum Kaanbadharkku Aayiram Kodi
Kaalam Vandhaal Kan Thirappaai
Theeyavarai Nee Erippaai
Aangaariyae Ongaariyae Maakaali
Nandri Unakku Cholla
Vaarttai Illai Maariye
Nenjil Neranju Nikkum
Aayiram Kan Sooliye
Manja Neer Thelikkudhammaa
Oor Sananga Koodiye
Mangalam Koduppavale
Kunguma Chingaariye
Thottiyam Kaali Endru Thulangidum Thaaye
Soolakkal Maari Endru Pugazh Padaithaaye
Nandri Unakku Cholla
Vaarttai Illai Maariye
Nenjil Neranju Nikkum
Aayiram Kan Sooliye
Manja Neer Thelikkudhammaa
Oor Sananga Koodiye
Mangalam Koduppavale
Kunguma Chingaariye
---
Uthama Raasa [1993] Tamil Songs List
Intha Maamanoda Manasu
Lyrics: Vaali
Singers: S. P. Balasubrahmanyam, S. Janaki
Unna Maathi Kaattaama
Lyrics: Vaali
Singers: S. P. Balasubrahmanyam, S. Janaki
Vaaya Vaaya Paaya Podu
Lyrics: Vaali
Singers: S. P. Balasubrahmanyam, S. Janaki
Nalla Neram Edha Thottalum
Lyrics: Vaali
Singer: S. P. Balasubrahmanyam
Nandri Unakku Cholla
Lyrics: Vaali
Singer: Malaysia Vasudevan
Paavalaru Pattu
Lyrics: Vaali
Singer: Mano
Comments
comments