August 3, 2023
Thekam Pattu Song Lyrics
Thekam Pattu Song Lyrics: Thekam Pattu is a Tamil song from the 1983 film 'Sattam', directed by K. Vijayan and produced by Anandavalli Balaji under the banner Sujatha Cine Arts. It is a remake of the Hindi film Dostana (1980) written by Story by Salim–Javed, starring Amitabh Bachchan, Shatrughan Sinha, Zeenat Aman in lead roles.
Sattam Tamil film features Kamal Haasan, Madhavi, Sarath Babu, Y. G. Mahendran, Jaishankar, Vijayakumar, K. Balaji, Manorama, Ilavarasi, Sathyakala, Silk Smitha, and others.
Thekam Pattu Song Lyrics were written by Gangai Amaran and he composed it as well. This song was sung by playback singers S. P. Balasubrahmanyam, and S. P. Sailaja.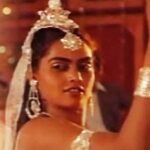 Thekam Pattu Song Lyrics
Movie: Sattam [1983]
Music: Gangai Amaran
Lyrics: Vaali
Singers: S. P. Balasubrahmanyam, S. P. Sailaja
Music Label: Saregama
Check out 'Thekam Pattu Song Lyrics' here..
Wish You A Prosperous New Year
Roo Ruthu Tharathaa
Roo Ruthu Tharathaa
Rattha Thaa Rattha Raa Rattha Thaa
Thattha Thaahmmm.
Dhegam Pattu
Sirukkum Mottu
Dhegam Pattu
Sirukkum Mottu
Yogam En Yogam Thaan
Enai Neril Vella Yaarum Illai
Neram En Naeram Thaan
Edhirkka Yaar
Any Challenger Hakkoo
Yes There Is One..
Thank You Very Much
Ae Haa Haa Ae Haa Haa
Naan Thaan Raajaa Yendi Rojaa
Naan Thaan Raajaa Yendi Rojaa
Garvam Koodaadhammaa
En Munnae Undhan Aattam Ellaam
Ingae Sellaadhammaa
Mayakkamaa Hu Hoo
Haa
Edhu Vendum Disco Dance Ah
Haa
Palikkaadhu Undhan Paachaa
Haa
En Maeni Mirudhangam Thaan
Haa
Engengum Pudhu Thanjam Thaan
Baradham Undu
Thakajinu Thakajinu Thakajinu Thakajinu
Kadhakkum Undu
Dheena Dheena Dhiranaa
Baradham Undu
Kadhakkum Undu
Disco Danceum Undu
Jadhi Pottu Paaru Neeyum Indru
Dhegam Pattu
Sirikkum Mottu
Yogam En Yogam Thaan
En Munnae Undhan Aattam Ellaam
Ingae Sellaadhammaa
Mayakkamaa Maa Maa Maa
Haaha Haaha Haa Haa
Haehe Haehe Haehae
Haehae Hu Hoo
Haehae Hu Hoo
Engengum Rasigargal Koottam
En Meedhu Dhinasari Naattam
Nadandhaalum Adhu Oru Aattam
Naadengum Pala Vidha Mandram
Punjaab Baangraa
Ballae Ballae Ballae Ballae
Ballae Ballae Ballae Ballae
Ballae Ballae Ballae Hahhaa Haa Hahaa
Idhu Thaan Andhraa
Thandhu Nakkuna Thaakadha Nakkuna
Thandhu Nakkuna Thaakadha Nakkuna
Thanthina Thaakadha Nakkuna
Dhinnaa Dhinnaa Dhinnaa
Kadhakalikko Keralaa
Thanthan Naana Thanthan Naana
Thai Thai Thai Thai Thai Thai Thai
Thanthan Naana Thanthan Naana
Thai Thai Thai Thai Thai Thai Thai
Punjaab Baangdaa
Idhu Thaan Aandhraa
Kadhakalikko Keralaa
Edhu Vendum Kettu Paaru Ingae
Naan Thaan Raajaa Yendi Rojaa
Naan Thaan Raajaa Yendi Rojaa
Garvam Koodaadhammaa
En Munnae Undhan Aattam Ellaam
Ingae Sellaadhammaa
Mayakkamaa Haaaaaa
Come On Kiss Me
Sattam [1983] Tamil Film Songs List
Vaa Vaa En Veenaiye
Lyrics: Vaali
Singers: S. P. Balasubrahmanyam, Vani Jairam
Ammamma Saranam Saranam
Lyrics: Vaali
Singers: S. P. Balasubrahmanyam, Vani Jairam
Oru Nanbanin Kadhai Idhu
Lyrics: Vaali
Singer: S. P. Balasubrahmanyam
Nanbane Enathu Uyir Nanbane
Lyrics: Vaali
Singers: S. P. Balasubrahmanyam, Malaysia Vasudevan
Thekam Pattu
Lyrics: Gangai Amaran
Singers: S. P. Balasubrahmanyam, S. P. Sailaja
Comments
comments