May 20, 2023
Anupamaa Episode 927 Written Update – 20 May 2023 | Anuj Faces Hasmukhs Questions
Anupamaa Episode 927 Written Update – 20 May 2023 | Anuj Faces Hasmukhs Questions: Anupamaa is an Indian Hindi language television series, developed by Leena Gangopadhyay and directed by Romesh Kalra. It was produced by Rajan Shahi and Deepa Shahi under the banner of Director's Kut Productions, it is loosely based on Star Jalsha's Bengali series Sreemoyee.
Anupamaa Hindi serial season 1 was premiered on 13 July 2020 on Star Plus and streams digitally on Disney+ Hotstar. It stars Rupali Ganguly, Sudhanshu Pandey, Madalsa Sharma Chakraborty, Gaurav Khanna, and others.
Previous Episode : Anuj feels delighted to learn that Anupama is going to America to fulfil her dream. Later, Anupama gets shocked when Maaya gives a proposal for Samar's wedding.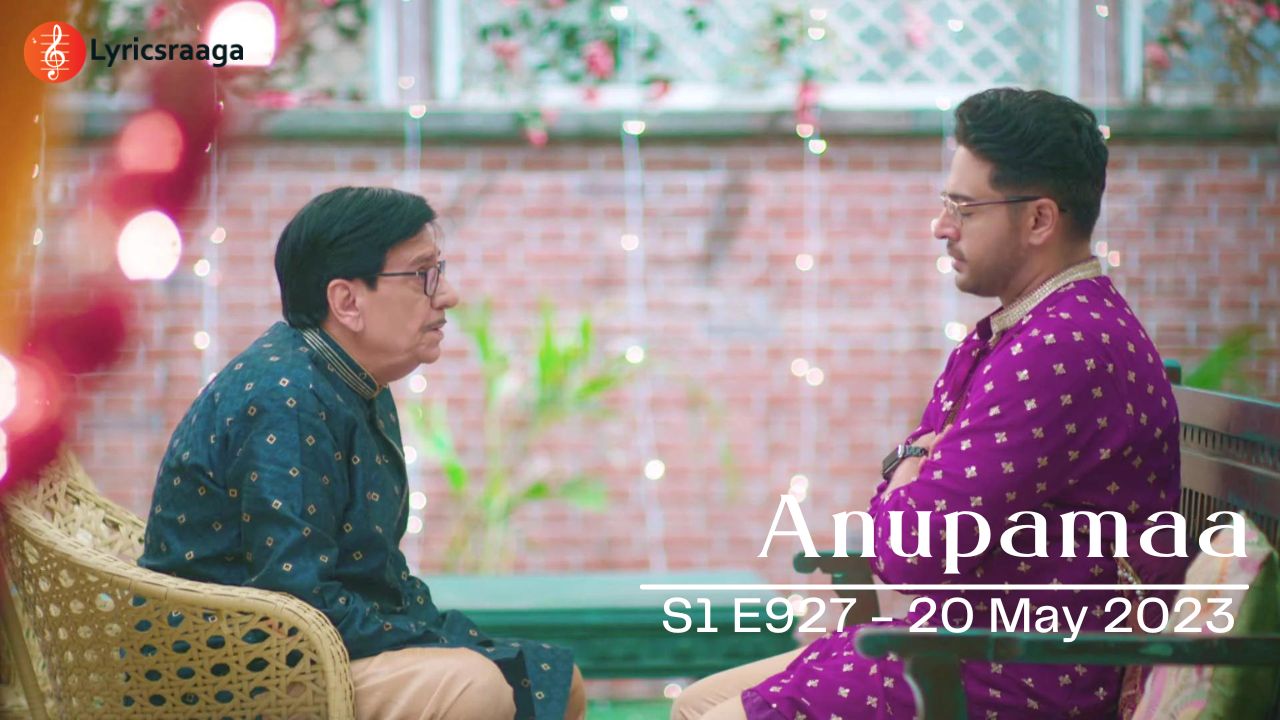 Anupamaa Episode 927 Written Update – 20 May 2023 | Anuj Faces Hasmukh's Questions
Anuj breaks down in tears when Hasmukh questions Maaya's involvement in his life. Later, Vanraj grows anxious as Anuj follows Anupama to confront her.
In a tense turn of events, Maaya persistently urges Anuj to move to the Kapadia house, hoping to erase Anupama's memories from his heart and build their own shared memories. However, Anuj anxiously refuses, indicating his lingering attachment to Anupama. Sensing an opportunity, Maaya discreetly steps aside upon spotting Hasmukh approaching Anuj.
Concerned for his well-being, Hasmukh asks Anuj if he is alright, to which Anuj nods in affirmation. Sensing the need for a conversation, Hasmukh suggests that they should talk, prompting Anuj to start the discussion. Meanwhile, Barkha, curious about Hasmukh's interaction with Anuj, hopes that Anuj doesn't reveal any secret to him, which could potentially complicate matters.
In an attempt to create a safe space for Anuj to express himself, Hasmukh encourages him to confide in him, assuring him that he can share anything he doesn't want to tell Anupama. Anuj, believing that Hasmukh already knows the truth, claims he has nothing to say.
However, Hasmukh persists, insisting on questioning Anuj's connection with Maaya and seeking an explanation for Maaya's involvement in rituals such as the pooja, her decision-making on Anuj's behalf, and her mention of erasing Anupama's memories. Hasmukh firmly asserts his right to seek answers, but Anuj cryptically responds that some questions are better left unanswered.
As Hasmukh tries to leave, Anuj, desperately seeking reconciliation, grabs hold of his father's hand and implores him to forgive his son for everything if possible. Despite the emotional plea, Hasmukh walks away, leaving Anuj filled with anxiety. Unbeknownst to them, Anupama overhears their conversation and notices Anuj's turmoil, sensing that something significant is transpiring.
Meanwhile, Meenu, Little Anu, and Bhairavi discuss the lack of planning for the upcoming party theme. They decide to adopt the same hairstyle and wear similar jewelry for the functions. Curious about Anupama's living arrangements, Little Anu asks Bhairavi if she stays with Anupama, which Bhairavi affirms.
Leela, however, holds a negative opinion, believing that Anupama tends to bring home helpless girls without reason. To assert her authority, Leela loudly demands water, prompting Bhairavi to fetch it for her.
Maaya seizes the opportunity to seek Leela's approval, volunteering to grind haldi finely. Leela, reminding Maaya of her position as the bride's side, warns her not to display any attitude. Amused by the situation, Maaya grins, observing Anupama's silent presence.
In another corner, Hasmukh consults Barkha, expressing concern over the potential consequences if Anuj were to scrutinize the company accounts. Barkha assures him that Anuj will depart after the marriage, assuaging their worries. She cryptically mentions that everyone in the house is engaged in a game, waiting for someone else to make a move.
Leela, noticing Vanraj's sadness, attempts to comfort him by assuring him that Anuj and Anupama will not meet. She expresses confidence in Maaya's ability to dominate Anuj's life and predicts that she won't let go easily. Leela further criticizes Dimpy, Vanraj's prospective daughter-in-law, and belittles her parents, considering them inferior to her own.
Dolly chimes in, adding that Dimpy is an overwhelming presence herself. Leela questions what new antics Dimpy has displayed this time, with Dolly responding that she has found a daughter-in-law who matches Leela's fiery personality. Hasmukh defends Dimpy as a young person who will gradually learn. Leela predicts that teaching Dimpy manners will cause them to forget their own.
Meanwhile, Vanraj, consumed by jealousy, notices Anuj following Anupama. Anupama, anticipating Anuj's approach, declares that she knew he would come to speak with her. The sentimental atmosphere intensifies as the song "Tu Meri Zindagi Hai" resonates in the background. Anuj steadily walks toward Anupama, igniting Maaya's panic as she fears the possibility of them being together.
Anuj finally finds the courage to express his feelings to Anupama, expressing his happiness that she is pursuing her dream in America. Deeply moved, Anupama recites a poem in her heart, cherishing the moment. Meanwhile, Maaya anxiously searches for Anuj and Anupama, worried about their prolonged absence. Vanraj, growing impatient, wonders why they haven't emerged yet.
Just as Anuj prepares to reveal something crucial to Anupama, Maaya intervenes, feigning an anxiety attack and swiftly whisking Anuj away from the scene, interrupting their conversation and leaving Anupama bewildered.
In the upcoming episode, viewers are treated to a preview of Anupama unexpectedly encountering Anuj in a market. Eager to know what he wanted to say earlier, she approaches him, and he proceeds to recount the events that unfolded after he left Mumbai to meet him. Overwhelmed by the flood of emotions, they embrace, setting the stage for a potentially transformative moment in their relationship.
Comments
comments