October 2, 2018
Atti Atti Swadratti Song Lyrics | Kannada Folk Songs
Atti Atti Swadratti Song Lyrics | Kannada Folk Songs: Atti Atti Swadratti is famous Kannada folk song known as Janapada Haadu. People use different lyrics for the same tune creating their own version of this song. This version of the song was written by H. B Phareet. Manoranjan Prabhakar is the music director of this song. Ashwini Recording Company is the music label of this version of the this famous folk song. Singers H. B Phareet and Mangala Anjan sung this Atti Atti Swadratti song.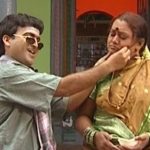 Atti Atti Swadratti Lyrics
Music Label: Ashwini Recording Company
Music: Manoranjan Prabhakar
Lyrics : H. B. Phareet
Singers: H. B. Phareet, Mangala Anjan
Genere: Folk Songs
Check out the lyrics here..
Atti Atti Swadratti
Nanna Dadda Anthara Nannatthi
Nanna Dadda Anthara Nannatthi
Naa Edraaga Kammi Helathi
Ayyo Nanna Sodraliya
Nee Yavag Bandi Nannaliya
Nee Carnyaga Bandeno Nannaliya
Nee Honda Tandyo Nannaliya
Honda Illa Caru Illa
Caru Illa Honda Illa
Nadkondu Bande Nannatthi
Atti Atti Swaadratthi
Nanna Dadda Anthara Nannatti
Nanna Dadda Anthara Nannatti
Naa Edraaga Kammi Helatti
Bisneer Beko Nannliya
Ning Thannerbeko Nannaliya
Bisneer Beko Nannliya
Ning Thannerbeko Nannaliya
Bisneeru Byaada Thanneer Byaada
Thanneeru Byaada Bisneeru Byaada
Mori Neera Bekatthi
Powdra Hachko Nannliya
Nee Snowa Hachko Nannaliya
Powdra Hachko Nannliya
Nee Snowa Hachko Nannaliya
Powder Beda Snowu Beda
Snowu Beda Powder Beda
Sagani Idre Kodatthi
Atthi Atthi Swaadratthi
Nanna Dadda Anthara Nannatti
Nanna Dadda Anthara Nannatti
Naa Edraaga Kammi Helatti
Haala Kudithiya Nannaliya
Nee Horlicks Kudithiya Nannliya
Haala Kuditiya Nannaliya
Nee Horlicks Kuditiya Nannliya
Haalu Byaada Horlicks Byaada
Horlicksu Byaada Haalu Byaada
Musri Neera Kodatthi
Koli Koilen Nannaliya
Kuriya Koilen Nannaliya
Koli Koilen Nannaliya
Kuriya Koilen Nannaliya
Koliyu Byaada Kurinu Byaada
Kuriyu Byaada Koliyu Byaada
Naayi Idre Koiyatthi
Atthi Atthi Swaadratthi
Nanna Dadda Anthara Nannatthi
Nanna Dadda Anthara Nannatthi
Naa Edraaga Kammi Helathi
Dhotara Bekena Nannaliya
Lungi Hacko Nannaliya
Dhotara Bekena Nannaliya
Lungi Hacko Nannaliya
Dhotar Byaada Lungiyu Byaada
Lungiyu Byaada Dhotar Byaada
Hanga Irthini Nannatthi
Chaapi Haaklena Nannaliya
Gaadhi Haaklena Nannaliya
Chaapi Haaklena Nannaliya
Gaadhi Haaklena Nannaliya
Chaapiyu Byaada Gaadhiyu Byaada
Gaadhiyu Byaada Chaapiyu Byaada
Kopppardatta Haasatthi
Atthi Atthi Swaadratthi
Nanna Dadda Anthara Nannatthi
Nanna Dadda Anthara Nannatthi
Naa Edraaga Kammi Helathi
Roomnyaag Malgthiyo Nannaliya
Nadu Maniyaag Malgthiyo Nannaliya
Roomnyaag Malgthiyo Nannaliya
Nadu Maniyaag Malgthiyo Nannaliya
Roomu Byaada Nadu Mani Byaada
Nadu Mani Byaada Roomu Byaada
Davdyaag Malgthini Nanntthi
Doddu Maglu Beka Nannaliya
Ning Sanna Maglu Beka Nannaliya
Dodd Maglu Beka Nannaliya
Ning Sann Maglu Beka Nannaliya
Doddu Maglu Byaada San Maglu Byaada
San Maglu Byaada Dodd Maglu Byaada Atthi
Inyaarbekappa Aliya
Neene Beku Nannatthi
Nettage Maathaadu Nannaliya
Nin Hodithini Nannaliya
Nettage Maathaadu Nannaliya
Nin Hodithini Swadraliya
Thappaithu Thappaithu Swadratthi
Naanu Nammorig Hogthini
Thappaithu Thappaithu Swadratthi
Naanu Nammorig Hogthini Nannatthi
Nee Dadda Antha Sumnidra
Nan Budaka Kaihaakaak Barthiya
Nin Mansnag Chillar Buddi Sumned Hogu Bevarsi
Thappaithu Thappaithu Swadratthi
Nee Maamag Helbeda Nannatthi
Thappaithu Thappaithu Swadratthi
Nee Maamag Helbeda Nannatthi
Comments
comments