October 18, 2017
Avala Hejje Song Lyrics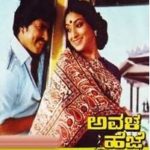 Avala Hejje Song Lyrics: Avala Hejje is a 1981 Kannada film, directed by H.R. Bhargava. This film is loosely based on 1978 Bollywood film Trishna. Avala Hejje features Vishnuvardhan, Lakshmi, Ambarish, Dwarakish, Sundar Krishna Urs, Seetharama and others. Sangeetha is the music label of this movie.
Songs were composed by Rajan-Nagendra with lyrics penned by Chi. Udaya Shankar. Songs were rendered by S. P. Balasubrahmanyam and Janaki.
Check out the lyrics here..
Bandeya Baalina Lyrics
Movie: Avala Hejje [1981]
Music Label: Sangeetha
Music: Rajan-Nagendra
Lyrics: Chi. Udaya Shankar
Singer: S. P. Balasubrahmanyam
Neralanu Kaanada Lyrics
Movie: Avala Hejje [1981]
Music Label: Sangeetha
Music: Rajan-Nagendra
Lyrics: Chi. Udaya Shankar
Singer: S. P. Balasubrahmanyam
Aakasha Neeraagali Lyrics
Movie: Avala Hejje [1981]
Music Label: Sangeetha
Music: Rajan-Nagendra
Lyrics: Chi. Udaya Shankar
Singers: Janaki, S. P. Balasubrahmanyam
Devara Aata Lyrics
Movie: Avala Hejje [1981]
Music Label: Sangeetha
Music: Rajan-Nagendra
Lyrics: Chi. Udaya Shankar
Singer: Janaki
Save
Comments
comments