February 17, 2018
Hrudayadali Idenidu Nadiyondu Lyrics
Hrudayadali Idenidu Nadiyondu Lyrics: Hrudayadali Idenidu Nadiyondu is a song from the 1988 Kannada film Devatha Manushya, written and directed by Singeetham Srinivasa Rao. The film was produced by Smt Parvathamma Rajkumar under the banner Poornima Enterprises. The film features Dr. Rajkumar, Geetha, Sudharani, K. S. Ashwath, Balakrishna, Kanchana, Hema Choudhary, Shivaram, Sundar Krishna Urs, Rajanand, Padma Kumata, Honnavalli Krishna, Akhila, Sundaramma, Sithara, Sheela, Ashwath Narayan and others.
This film marks Dr. Rajkumar's 200th movie. Lahari Music was the music label of this movie. This song was composed by Upendra Kumar with lyrics penned by Chi. Udaya Shankar. This evergreen song Hrudayadali Idenidu Nadiyondu was rendered by Dr. Rajkumar and Manjula Gururaj.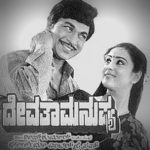 Hrudayadali Idenidu Nadiyondu Lyrics
Movie: Devatha Manushya [1988]
Music Label: Lahari Music
Music: Upendra Kumar
Lyrics: Chi. Udaya Shankar
Singers: Dr. Rajkumar, Manjula Gururaj
Check out the lyrics here..
Aha Haa Aa Ha Hm Hm Hmmm Hmhm
Hrudayadali Idenidu Nadiyondu Odide
Hrudayadali Idenidu Nadiyondu Odide
Kalakalane Kalarava Keli Hosabayake Hoovu Arali
Jotheyalli Prema Geethe Haaduvaase Eega
Hrudayadali Idenidu Nadiyondu Odide
Hrudayadali Idenidu Nadiyondu Odide
Kalakalane Kalarava Keli Hosabayake Hoovu Arali
Jotheyalli Prema Geethe Haaduvaase Eega
Hrudayadali Idenidu Nadiyondu Odide
Suyy Yennutha Beesuva Thannane Gaalige
Guyy Yennuva Dumbiya Haadina Modige
Ee Manasu Soluthide Hosa Kanasu Kenakutive
Maaduvudeneega
Hrudayadali Idenidu Nadiyondu Odide
Ghamm Yennuva Thaavare Hoovina Kampige
Jhumm Yennisi Thanuvali Oduva Minchige
Mai Bisiyu Yeruthide Ee Besuge Heluthide
Tumbithu Aananda
Hrudayadali Idenidu Nadiyondu Odide
Kalakalane Kalarava Keli Hosabayake Hoovu Arali
Jotheyalli Prema Geethe Haaduvaase Eega
Hrudayadali Idenidu Nadiyondu Odide |2|
Devatha Manushya [1988] Songs
Hrudayadali Idenidu Nadiyondu
Ninnantha Appa Illa
Haalallaadaru Haaku Neeralladaru Haaku
Ee Songasaada Sanje
Ide Jeevana
Comments
comments