October 26, 2017
Krishna Rukmini Kannada Song Lyrics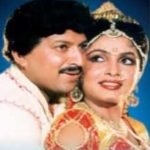 Krishna Rukmini Kannada Song Lyrics: Karnatakada Ithihaasadali is a song from the 1988 Kannada movie Krishna Rukmini, directed by H. R. Bhargava and produced by Smt Suvarna Channanna. Krishna Rukmini features Vishnuvardhan, Ramya Krishnan, Devaraj, Mukhyamantri Chandru, Vijayakashi, Mysore Lokesh, Umashree, Hema Chaudhary, Vanithavasu and others.
Songs were composed by K. V. Mahadevan with lyrics penned by . N. Jayagopal, Shyamsundar Kulakarni and Doddarange Gowda. Songs were rendered by S. P. Balasubrahmanyam and VaniJayaram.
Check out the lyrics here..
Karnatakada Ithihaasadali Lyrics
Movie: Krishna Rukmini [1988]
Music Label: Lahari Music
Music: K. V. Mahadevan
Lyrics: R. N. Jayagopal
Singer: S. P. Balasubrahmanyam
Naa Kande Ninna Madura Lyrics
Movie: Krishna Rukmini [1988]
Music Label: Lahari Music
Music: K. V. Mahadevan
Lyrics: Doddarange Gowda
Singers: S. P. Balasubrahmanyam, Vani Jayaram
Balukaado Bangaari Lyrics
Movie: Krishna Rukmini [1988]
Music Label: Lahari Music
Music: K. V. Mahadevan
Lyrics: Doddarange Gowda
Singers: S. P. Balasubrahmanyam, Vani Jayaram
Cheluvina Chilume Chimmidaaga Lyrics
Movie: Krishna Rukmini [1988]
Music Label: Lahari Music
Music: K. V. Mahadevan
Lyrics: Shyamsundar Kulakarni
Singers: S. P. Balasubrahmanyam, Vani Jayaram
Naada Lola Sri Krishna Lyrics
Movie: Krishna Rukmini [1988]
Music Label: Lahari Music
Music: K. V. Mahadevan
Lyrics: Shyamsundar Kulakarni
Singer: Vani Jayaram
Naadave Nanninda Dooraadeya Lyrics
Movie: Krishna Rukmini [1988]
Music Label: Lahari Music
Music: K. V. Mahadevan
Lyrics: Shyamsundar Kulakarni
Singer: S. P. Balasubrahmanyam
Comments
comments