June 16, 2019
Role of Student In Keeping Area Clean | Student Essay
Role of Student In Keeping Area Clean | Student Essay: Students are future of our Nation. Students are the ones who are going to play a vital role in Nation Building. Students contribution is going to be very important in all aspects of nation building.
In School teachers teach students all the important and essential things that will help them to shape their lives and in turn help in building a better society.
Cleanliness is definitely one of the imperative virtue that each and every student should adopt in their life. Cleanliness tells about our personality and our characters.
Apart from personal cleanliness, students should also learn to keep their home and surrounding clean. They should put all the principles taught in school and Home, in practice.
Student can play important role cleaning their surroundings. Let's discuss about student's role in keeping the surroundings clean.
Students, who are so energetic, enthusiastic and dedicated to anything they feel drawn towards, can do excellent work in keeping the surroundings clean. The best way to begin this cleanliness activity is from our home.
At home we can try to keep own room, our own cupboard, our own toilet, our own kitchen clean. we can help our mother in managing the garbage by properly putting them in the dustbin instead off throwing them where ever they want.
Once we learn to keep ourselves and our home, we can definitely keep our surrounding also clean. Let the cleanliness begin at your own home! If each one starts maintaining cleanliness at his or her own home, eventually, our surrounding, area, state and nation will automatically become clean.
In schools, Students throw garbage, roll of papers all over the floors. They throw their waste when and where they feel like it. They shouldn't do all these things. Instead we have to take care of our classes and school and keep them clean so that we will have healthy and clean environment.
In order to maintain cleanliness at school, students should make a monitoring team consisting of some responsible students in every class. They should not allow anyone to throw litter either in the class or anywhere else in the school and its surroundings. These teams should work in coordination with teachers and school administration.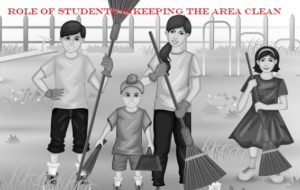 Once we manage to keep our home and school clean, we can confidently move forward in the direction of keeping our area clean.
First as a individual, we students should try to keep our area clean by doing small but effective things like putting the garbage in dustbin, not spitting on the street or other public places. Shouldn't urinate wherever we want. we should not use plastic bags and try to create a awareness about the same in our area.
Students should follow the proper ways of maintaining cleanliness. At public places and during functions or celebrations,  students must avoid rubbish such as paper, cans, and bottles left lying in an open or public place and advise other people not to litter around. They can set an example over there.
Students can form groups to actively participate in different social activities. We can invites other students join the group to create awareness about the cleanliness and involve in activities that would help in keeping our area clean.
Students can spread message about this group to other people and create awareness not only in cleaning but also in other social activities like growing trees etc.. Students can plant trees first in the school and later in their area.
As we walk along the streets to the schools, when we observe people spreading stink and garbage, we should pass the information to the elders about the same. Then that problem will be resolved out by responsible people without any friction.
Students can go to the particular place of the area, which is being used as dumping grounds and reason with people. We can explain people about the negative effects of garbage on the environment and people living in the surroundings.
We can hold seminars or street plays to create awareness among people about the health related problems caused by the garbage mounds. We can help their ignorant or illiterate family members.
Students can participate in competitions such as essay writings, painting and poster competitions. That makes them more aware of the problems and issues related to cleanliness in India.
As part of Swachta Abhiyaan, Our honorable prime minister Mr Narendra Modi started Swachh Vidyalaya Abhiyan up to August 15, 2015, by organizing model activities on hygiene, periodic essay, painting, film shows and other competitions to encourage students towards cleanliness.
We as Students should know our role in our communities, localities and eventually our country. We should keep our society clean and also should encourage others to act with responsibility towards cleanliness to take care of our society.
So Role of Student In Keeping Area Clean, is very important and essential. Hope all the students will take the responsibility and act accordingly.
General Knowledge
Sobriquets [Nick Names] and Primary Names
ISRO Chairman List | Indian Space Research Organisation
List of Chief Ministers of Karnataka
List of Chief Ministers of Uttar Pradesh
Comments
comments