April 8, 2022
Jag Mein Sundar Hain Do Naam Lyrics
Jag Mein Sundar Hain Do Naam Lyrics: Jag Mein Sundar Hain Do Naam is a a very famous Hindi bhajan or Devotional songs about Lord Krishna and Lord Rama.
Lord Krishna as we all know is a major deity in Hinduism and is one of the most popular and widely worshiped god. He is the eighth avatar in Ten Avatars [Dasahavataram] of Lord Vishnu. He is considered as the god of compassion, tenderness, and love.
Lord Krishna's birthday is celebrated as Krishna Janmashtami. This festival is celebrated in different parts of India in different names such as Gokulashtami, Yadukulashtami, Saatam Aatham, and Srikrishna Jayanti. This years Krishna Janmashtami 2021 date is August 30th. Wish you all a very happy Krishna Janmashtami.
Lord Rama is a one of the largely worshipped deity in Hindu religion. Rama is the seventh avatar of the god Vishnu in his Dashavatara [Ten Avatars]. Rama was born in Ayodhya as the eldest son of king Dasharatha of Kosala. Kaushalya was the mother of Rama. Lakshmana, Bharata, and Shatrughna were the siblings of Lord Rama. Lord Rama married Sita Devi. Lava and Kusha were the sons of Rama and Sita Devi.
Over the years, Jag Mein Sundar Hain Do Naam Traditional Bhajan was was re-created by various artists and rendered by various singers like Anuradha Paudwal, Anup Jalota, and others.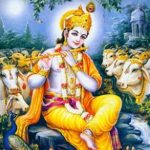 Jag Mein Sundar Hain Do Naam Lyrics
Genre: Devotional
Lord: Krishna & Rama
Lyrics: Traditional
Singers: Various
Language: Hindi
Check out 'Jag Mein Sundar Hain Do Naam Lyrics' here..
Jag Mein Sundar Hain Do Naam
Do Naam Do Naam Do Naam
Chaahe Krishna Kaho Ya Ram
Jag Main Sundar Hain Do Naam
Do Naam Do Naam Do Naam
Chaahe Krishna Kaho Ya Ram
Bolo Ram Ram Ram
Bolo Shyam Shyam Shyam
Bolo Ram Ram Ram
Bolo Sham Sham Sham
Jag Me Sundar Hain Dho Naam
Chaahe Krishna Kaho Ya Ram
Jag Mein Sundar Hain Dho Naam
Chaahe Krishna Kaho Ya Ram
Bolo Ram Ram Ram
Bolo Shyam Shyam Shyam
Bolo Ram Ram Ram
Bolo Shyam Shyam Shyam
Makhan Brij Mein Ek Churaave
Ek Ber Bhilni Ke Khaave
Makhan Brij Mein Ek Churaave
Ek Ber Bhilni Ke Khaave
Prembhav Se Bhare Anokhe
Donon Ke Hain Kaam
Chaahe Krishna Kaho Ya Ram
Chaahe Krishna Kaho Ya Ram
Bolo Ram Ram Ram Bolo Shaam Shaam Shaam
Bolo Ram Ram Ram Bolo Shaam Shaam Shaam
Ek Hrudaya Mei Prem Badaave..
Ek Thaap San Thaap Mittaave
Ek Hrudaya Mei Prem Badave..
Ek Thaap San Thaap Mittave
Dono Such Ke Sagar Hai
Dono Such Ke Sagar Hai
Aur Dono Puran Kaam
Bolo Ram Ram Ram
Bolo Shyam Shyam Shyam
Bolo Ram Ram Ram
Bolo Shyam Shyam Shyam
Ek Kans Paapi Ko Mare
Ek Dusht Ravan Samhare
Ek Kans Paapi Ko Mare
Ek Dusht Ravan Samhare
Donon Deen Ke Dukh Harat Hain
Donon Bal Ke Dhaam
Chaahe Krishna Kaho Ya Ram
Chaahe Krishna Kaho Ya Ram
Bolo Ram Ram Ram Bolo Shyam Shyam Shyam
Bolo Ram Ram Ram Bolo Shyam Shyam Shyam
Bolo Ram Ram Ram Bolo Shyam Shyam Shyam
Bolo Ram Ram Ram Bolo Shyam Shyam Shyam
Ek Radhika Ke Sang Raaje
Ek Janaki Sang Biraaje
Ek Radhika Ke Sang
Ek Janaki Sang Biraaje
Chaahe Seetharam Kaho
Chaahe Seetharam Kaho
Ya Bolo Radhe Shyam
Bolo Ram Ram Ram Bolo Shyam Shyam Shyam
Bolo Ram Ram Ram Bolo Shyam Shyam Shyam
Bolo Ram Ram Ram Bolo Shyam Shyam Shyam
Lord Rama Songs
Innastu Bekenna Hrudayakke Rama
Vandanamu Raghunandana
Ramachandraya Mangalam
Jag Mein Sundar Hain Do Naam
Ayodhyil Vaazhum Engal Kanmani Sriramane
Raghava Ashtakam
Comments
comments