April 9, 2022
Ramachandraya Mangalam Lyrics | Bhakta Ramadasu
Ramachandraya Mangalam Lyrics | Bhakta Ramadasu: Ramachandraya Mangalam is a Telugu devotional song about Lord Rama, composed by Swami Sri Bhadrachala Ramadasu.
Lord Rama is a one of the largely worshiped deity in Hindu religion. Rama is the seventh avatar of the god Vishnu in his Dashavatara [Ten Avatars]. Lord Rama's birthday is celebrated as Rama Navami festival in India.
Rama was born in Ayodhya as the eldest son of king Dasharatha of Kosala. Kaushalya was the mother of Rama. Lakshmana, Bharata, and Shatrughna were the siblings of Lord Rama. Lord Rama married Sita Devi. Lava and Kusha were the sons of Rama and Sita Devi.
Swami Sri Bhadrachala Ramadasu [c. 1620 – 1688] was a 16th century saint poet and Carnatic music composer.  He
was a ardent devotee of Lord Rama. Sri Bhadrachala Ramadasu was also known as Bhakta Ramadasu but his real name was Kancharla Gopanna.
He was born in the village of Nelakondapalli in Khammam district. He spent his later years in Bhadrachalam and 12 years in solitary confinement during the 'Qutb Shahi' rule at the Golkonda prison.
He composed lot of Keerthanas about Lord Rama and these are known as 'Ramadaasu Keertanalu' and considered as very important work in South Indian classical Carnatic music.
Bhakta Ramadasu was a writer of Telugu shathakams. He wrote the Daasarathi Shathakamu with a 'Makutamu' and 'Daasarathee Karunaa payonidhee', a collection of nearly 108 poems dedicated to Rama.
Over the years, Ramachandraya Mangalam Traditional Keerthana was was re-created by various artists and rendered by various singers like Dr Legends like M. Balamuralikrishna, Mambalam Sisters, and recent sensations like Kuldeep M Pai team, and various other artists.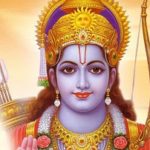 Ramachandraya Mangalam Lyrics
Composed by: Swami Sri Bhadrachala Ramadasu
Genre: Carnatic Devotional
Lord: Rama
Ragam: Kurinji
Language: Telugu
Check out 'Ramachandraya Mangalam Lyrics' here..
Ramachandraya Janaka Raja Jaa Manoharaaya
Maamakaabheeshtadhaaya Mahitha Mangalam
Kosaleshaaya Mandhahaasa Dasa Poshanaaya
Vaasavaadhi Vinutha Sadhwaraaya Mangalam
Chaaru Kumkumopetha Chandhanaadi Charchithaaya
Haarakataka Shobhithaaya Bhoori Mangalam
Lalitha Rathnakundalaaya Thulaseevanamaalikaaya
Jalaja Sadrusha Dehaaya Chaaru Mangalam
Devaki Suputhraaya Deva Devotthamaaya
Baavajaa Guruvaraaya Bhavya Mangalam
Pundarikaakshaaya Poorna Chandra Vadhanaaya
Andajaa Vaahanaaya Athula Mangalam
Vimalaroopaaya Vividha Vedhaantha Vedhyaaya
Sumukha Chittha Kaamithaaya Shubadha Mangalam
Ramadaasaaya Mrudhula Hrudhaya Kamalavaasaaya
Swami Bhadragirivaraaya Sarwamangalam
Swami Bhadragirivaraaya Sarwamangalam
Lord Rama Songs
Innastu Bekenna Hrudayakke Rama
Vandanamu Raghunandana
Ramachandraya Mangalam
Jag Mein Sundar Hain Do Naam
Ayodhyil Vaazhum Engal Kanmani Sriramane
Raghava Ashtakam
---
Here in lyricsraaga.com you find info of Kancharla Gopanna, Bhakta Ramadasu, sri bhadrachala ramadasu keerthanalu, bhadrachala ramadasu keerthanalu, bhadrachala ramadasu songs list, bhadrachala ramadasu keerthanalu pdf, bhadrachala ramadasu keerthanalu songs bhadrachala ramadasu keerthanalu songs lyrics, bhadrachala ramadasu keerthanalu lyrics in english pdf, bhadrachala ramadasu keerthanalu by yesudas, bhadrachala ramadasu keerthanalu by balamuralikrishna, bhadrachala ramadasu keerthanalu lyrics in english, bhadrachala ramadasu keerthanalu lyrics in telugu, bhadrachala ramadasu keerthanalu lyrics in hindi, bhadrachala ramadasu keerthanalu lyrics in tamil, bhadrachala ramadasu keerthanalu lyrics in kannada, bhadrachala ramadasu keerthanalu lyrics in malayalam, sri ramadasu keerthanalu lyrics in telugu, sri ramadasu keerthanalu lyrics in hindi, sri ramadasu keerthanalu lyrics in tamil, sri ramadasu keerthanalu lyrics in kannada, sri ramadasu keerthanalu lyrics in malayalam
Comments
comments