April 26, 2021
Raghava Ashtakam Lyrics | Devotional Songs
Raghava Ashtakam Lyrics | Devotional Songs: Sri Raghava Ashtakam is a devotional Sanskrit hymn composed by Sri Adi Shankaracharya about Lord Rama. Sri Adi Shankaracharya was an Indian philosopher and theologian who consolidated the doctrine of Advaita Vedanta.
Lord Rama is a one of the largely worshiped deity in Hindu religion. Rama is the seventh avatar of the god Vishnu in his Dashavatara [Ten Avatars]. Rama was born in Ayodhya as the eldest son of king Dasharatha of Kosala. Kaushalya was the mother of Rama. Lakshmana, Bharata, and Shatrughna were the siblings of Lord Rama. Lord Rama married Sita Devi. Lava and Kusha were the sons of Rama and Sita Devi.
This Shri Raghavashtakam stotram is in the Ashtakam format. The term Ashtakam or Astakam, is derived from the Sanskrit word Asta, meaning 'eight'. In context of poetic compositions, 'Ashtakam' refers to a particular form of poetry, written in eight stanzas. The stanzas in an 'Ashtakam' are a rhyming quartet with four lines. Thus, in an ashtakam generally thirty-two lines are maintained. All these stanzas follow a strict rhyme scheme.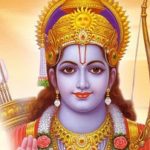 Raghava Ashtakam Lyrics
Genre: Devotional
God: Lord Rama
Composed by: Sri Adi Shankaracharya
Singers: Various
Language: Sanskrit
Check out Raghava Ashtakam lyrics here..
Raghavam Karunakaram Munisevitham Suravandhitham
Janaki Vadhanaravindha Diwakaram Guna Bhaajanam
Valisoonu hithaishinam Hanumath Priyam Kamale Kshanam
Yaathudhana Bhayankaram Pranamaami Raghava Kunjjaram
Maithili Kuchabhooshanamala Neelamaukthikam Eshvaram
Ravananuja Paalanam Raghu pungavam Mama Dhaivatham
Nagarivanthananambuja Bhodhaneeya Diwakaram
Sooryavamsha Vivardhanam Pranamami Raghava Kunjjaram
Hemakundala Mandithamala Kandadesham Arindhamam
Shathakumbha Mayooranethra Vibhooshanena Bhooshitham
Charunoopura Hara Kausthubha Karnabhooshana Bhooshitham
Bhanuvamsha vivardhanam Pranamami Raghava Kunjjaram
Dhandakakhyvanerathamara Siddhayogi Ganashrayam
Shishtapalana Thathparam Dhrithishali Parththakrithasthuthim
Kumbakarnna Bhujabhujanga Vikarthane Su Visharadham
Lakshmananuja Vathsalam Pranamaami Raghava Kunjjaram
Kethaki Karaveera Jathi Sugandhimalya Sushobhitham
Sreedharam Mithilathmaja Kucha Kumkumaruna Vakshasam
Devadevam Asheshabhootha Manoharam Jagathampathim
Dhasabootha Bhayapaham Pranamami Raghava Kunjjaram
Yagadhana Samadhi Homa Japadhi Karmakarair Dhvijai
Vedaparagathaiharnishamadharena Supoojitham
Thadaka Vadhahethu Angadhathatha Valinishoodhanam
Paithrikodhitha Paalakam Pranamaami Raghava Kunjjaram
Leelaya Kharadhooshanadhi Nishacharashu Vinashanam
Ravananthakam Acchyutham Hariyoothakodi Ganashrayam
Neerajananam Ambujaghriyugam Harim Bhuvanashrayam
Devakarya Vichakshanam Pranamami Raghava Kunjjaram
Kaushikena Sushikshithasthra Kalapamayatha Lochanam
Charuhaasam Anathabandhu Asheshaloka nivaasinam
Vasavadhi Surari Ravana Shasanam Cha Paramamgathim
Neela megha Nibhakritham Pranamaami Raghava Kunjjaram
Raghavashtakam Ishtasiddhidham Acchyuthashraya Sadhakam
Bhukthi Mukthi Phalapradham Dhana Dhanya Sidhdhi Vivardhanam
Ramachandhra Kripa kataksha madharena Sadha Japeth
Ramachandhra Padhambhujadhvaya Santhatharpitha Manasa
Rama Rama Namosthuthe Jaya Ramabhadra Namosthuthe
Ramachandhra Namosthuthe Jaya Raghavaya Namosthuthe
Devadeva Namosthuthe Jaya Devaraja Namosthuthe
Vasudeva Namosthuthe Jaya Veeraraja Namosthuthe
Lord Rama Songs
Innastu Bekenna Hrudayakke Rama
Vandanamu Raghunandana
Ramachandraya Mangalam
Jag Mein Sundar Hain Do Naam
Ayodhyil Vaazhum Engal Kanmani Sriramane
Raghava Ashtakam
Comments
comments