May 14, 2019
Kanakadasara Keerthanegalu | Padagalu | Bhakthi Geethegalu 6
Kanakadasara Keerthanegalu | Padagalu | Bhakthi Geethegalu 6: Kanakadasaru was a great saint and poet from Karnataka. He has composed plenty of devaranamas, Keerathanas, Padagalu but only 240 are available today. His compositions have deep philosophical message and devotion. He worshiped lord Adhikeshava of Kaaginele village hence in his poems he used Kaagineleya Adikeshava.
Kanakadasaru used Kannada language in his compositions so that it can reach the common people. His birthday is celebrated as Kanakadasa Jayanthi in Karnataka. His contribution to Kannada Dasa Saahityha [Dasa Literature] is immense.
Here we have made an effort to provide some of the Kanakadasara Keerthanegalu here. Lets look at the following Kanakadasara Padagalu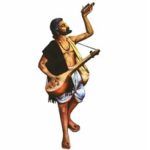 26. Nemavillada Homa Innethake
27. Sharanu Sharanu Sharanu Dasharatha Ramadhoothage
28. Endiddari Kompe Enage Nambikeyilla
29. Thoredu Jeevisabahude Hari Ninna Charanava
30. Yaatharavanendusurali Jaga
26. Nemavillada Homa Innethake
Nemavillada Homa Innethake
Ramanaamavirada Mantraveke
Neera Mulugalu Eke Naariyala Bidaleke
Vaarakondupavasa Maadaleke
Naarasimhana Divya Namavanu Nenedare
Ghora Paathakavella Tholagi Hoguvudu
Ambarava Thoreyaleke Thaamboola Bidaleke
Dambakada Vrutthiyali Iralethake
Ambujanaabhananu Bhavadali Nenedare
Imbuntu Vaikuntavemba Puradolage
Bandhadolage Biddu Hariyanu Neneyuthire
Bendu Hoguvuvu Durithangalella
Banda Paapgalella Nille Kaledaavu
Chendagi Neleyaadikeshavana Neneye..
27. Sharanu Sharanu Sharanu Dasharatha Ramadhoothage
Sharanu Sharanu Sharanu Dasharatha Ramadhoothage
Sharanu Kurukulaadeeshage
Sharanu Vaishnavamatha Vilaasage
Sharanu Mukya Praanage
Vaaridhiyanu Vegadhi Daati Vanava Kitthidaathage
Mere Illada Asurara Samharisida Ranashoorage
Vaarijaakshi Seetha Devige Varada Mudrikeya Nitthage
Dheerathanadali Akshakumarana Praanavanu Kondage
Rajasooyava Rachisabekendu Rajara Seelidaathage
Rajamukhiyala Rakshisi Mrugaraajage Olidaathage
Thrijaga Vanditha Devage Sajjana Priya Enipage
Raja Dharmge Anujanaadage Rajapoojitha Raajage
Dhaariniyolu Durvaadi Daithyara Gantalagaanavadage
Moorelu Mathavanella Murida Dheera Madvarayage
Saara Thathvagalanella Shodisi Soore Maadidaathage
Oorviyolu Vara Devathaadikeshava Dore Daasage
28. Endiddari Kompe Enage Nambikeyilla
Endiddari Kompe Enage Nambikeyilla
Mundarithu Haripaada Honduvudu Lesu
Eluvugalu Thole Jante Naragalavu Bigidanthe
Balida Charmavu Melu Hodikeyanthe
Galagalane Nudiva Naalage Ganteyuliyanthe
Kelakalaki Kompe Kadegaahudanthe
Kandigalu Ombattu Kalabantaraivaru
Andalevudotthinali Shaduvargavu
Mandalake Hosa Pariyu Manmathana Taanyavidu
Mande Hoguvudannu Ariyadee Kompe
Kompeyali Shrungara Kondadalalavalla
Kempubannagalinda Chennayitu
Impinali Kagi Neley Adikesavanannu
Sompinali Nenenenedu Sukiyaago Manuja
29. Thoredu Jeevisabahude Hari Ninna Charanava
Thoredu Jeevisabahude Hari Ninna Charanava
Thoredu Jeevisabahude
Baride Maathekinnu Arithu Peluvenayya
Karapididennanu Kaayo Karunanidhi
Thaayi Thandeya Bittu Thapava Maadalu Bahudu
Daayadi Bandhugala Bidalu Bahudu
Raaya Munidare Raajyava Bidabahudu
Kaayajapitha Ninnadiya Bidalaagadu
Odalu Hasidare Annava Bidabahudu
Padeda Kshetrava Bittu Horadalu Bahudu
Madadi Makkala Kadege Tholagisi Bidabahudu
Kadalodeya Nimmadiya Ghalige Bidalaagadu
Praanava Pararige Bedidare Kodabahudu
Maanabhimaanava Thaggisabahudu
Praanadaayakanaada Aadikeshavaraaya
Jaana Srikrishna Ninnadiya Bidalaagadu
30. Yaatharavanendusurali Jaga
Yaatharavanendusurali Jaga
Nnatha Maadida Ondu Nara Roopavayya
Muttu Huttinolu Nettane Naa Bande
Thottiddenaaga Thogala Bakkana
Ishtarolage Ondu Vivaravariyadintha
Brashtage Nanaginyaathara Kulavayya
Indriya Suthaka Durgandhada Malamoothra
Ninda Taavali Thanna Nijavariyade
Bandaddu Bacchalaguni Thindaddu Mole Maamsa Intha
Andhakage Nanaginyaathara Kulavayya
Ombattu Ejjadolosaruva Holasadu
Thumbi Htulukuva Kodavaagiralu
Imbillade Holegonda Taavinali Bandantha
Dambaka Nanaginyaathara Kulavayya
Karulu Khanda Naaruva Charma Rohita
Nara Panjaradi Hurulillada
Nara Deha Hotthu Thiruguvantha
Thiruka Nanaginyaathara Kulavayya
Haccadada Mele Lacchikeyittanthe
Hecchu Kadame Endu Henagaadutha
Niccha Kaagineleyadikeshavana
Hucchage Nanaginyaathara Kulavayya
Check Out Kanakadasaru Songs
Kanakadasara Keerthanegalu | Bhakthi Geethegalu | Part 1
Kanakadasara Keerthanegalu | Bhakthi Geethegalu | Part 2
Kanakadasara Keerthanegalu | Bhakthi Geethegalu | Part 3
Kanakadasara Keerthanegalu | Bhakthi Geethegalu | Part 4
Kanakadasara Keerthanegalu | Bhakthi Geethegalu | Part 5
Kanakadasara Keerthanegalu | Bhakthi Geethegalu | Part 6
Kanakadasara Keerthanegalu | Bhakthi Geethegalu | Part 7
Kanakadasara Keerthanegalu | Bhakthi Geethegalu | Part 8
Kanakadasara Keerthanegalu | Bhakthi Geethegalu | Part 9
Kanakadasara Keerthanegalu | Bhakthi Geethegalu | Part 10
Kanakadasara Keerthanegalu | Bhakthi Geethegalu | Part 11
Kanakadasara Keerthanegalu | Bhakthi Geethegalu | Part 12
Kanakadasara Keerthanegalu | Bhakthi Geethegalu | Part 13
Daasanaagu Visheshanaagu Lyrics
Ellaru Maduvudu Hottegaagi Lyrics
Dimbadalli Iruva Jeeva Lyrics
Eesha Ninna Charana Bhajane Lyrics
Related Keywords
#Kanakadasara Keerthanegalu, #Kanakadasara Keerthanegalu Lyrics In Kannada, #Kanakadasa Keerthana In Kannada, #Kanakadasa Keerthana Songs, #Kanakadasa Songs, #Kanakadasa Songs List, #Kanakadasara Haadugalu, #Kanakadasa Songs Lyrics In Kannada Pdf, #Kanakadasa Bhakthi Geethegalu, #Kanakadasara Haadugalu Kannada, #Kanakadasara Keerthanegalu, #Kanaka Dasara Padagalu, #Kanakadasara Padagalu Lyrics In Kannada, #Kanakadasara Haadugalu, #Kanakadasara Haadugalu Kannada, #Purandara Dasara Padagalu, #Dasara Padagalu, #Dasara Padagalu By Vidyabhushana, #Dasara Padagalu Lyrics, #Dasara Padagalu Puttur Narasimha Nayak, #Dasara Padagalu List, #Dasara Padagalu Kannada Devotional Songs, #Kanakadasa Jayanthi, #Kanaka Jayanthi, #Kanakadasa Jayanthi Date, #Kanakadasa Jayanthi November 26
Comments
comments