September 15, 2020
Olidu Baarammayya Olidu Baare Lyrics | Kannada Devotional Songs
Olidu Baarammayya Olidu Baare Lyrics | Kannada Devotional Songs: Olidu Baarammayya Olidu Baare is a Kannada devotional folk song about Goddess Chamundi Devi. Chamundi or Chamundeshwari is a form of the Hindu Divine Mother Parvati. This folk song was rendered by various artists like Folk Singer Savithakka over the years.
Navaratri or Durga Puja festival is associated with goddess Durga. Navaratri is a Hindu festival that spans nine nights and ten days. This festival is celebrated for different reasons and celebrated differently in various parts of India. Navaratri is celebrated as the Durga Puja festival in West Bengal. In Karnataka, It is called Dasara.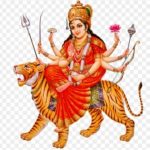 Song: Olidu Baarammayya Olidu Baare
Genre: Devotional
Lord: Chamundi / Durga Devi
Music: Folk
Lyrics: Folk
Singers: Various
Check out the lyrics here..
Chamundi Thaayi Chamundi
Chamundi Thaayi Chamundi
Olidu Baarammayya Olidu Baare
Bettada Chamundi Olidu Baare
Olidu Baarammayya Olidu Baare
Bettada Chamundi Olidu Baare
Mahishasurana Kondu Mysurinali Nintha
Mahishasurana Kondu Mysurinali Nintha
Bettada Bedagi Neenu Baare
Bettada Bedagi Neenu Baare
Amma Olidu Barammayya Olidu Baare
Bettada Chamundi Olidu Baare
Olidu Barammayya Olidu Baare
Bettada Chamundi Olidu Baare
Aaya Ullolu Neenu Chamundi
Chaaya Ullolu Neenu Chamundi
Amma Aaya Ullolu Neenu Chamundi
Chaaya Ullolu Neenu Chamundi
Aaya Chaaya Ullolu Mayagathi Chamundi
Aaya Chaaya Ullolu Mayagathi Chamundi
Dayamaadi Olidu Neenu Baare
Dayamaadi Olidu Neenu Baare
Olidu Baarammayya Olidu Baare Bettada Chamundi Olidu Baare
Olidu Baarammayya Olidu Baare Bettada Chamundi Olidu Baare
Akkayya Akka Baare Chamundi
Akkareya Gombe Baare Chamundi
Akkayya Akka Baare Chamundi
Akkareya Gombe Baare Chamundi
Akka Hiri Devathe Piriya Pattanadavale
Akka Hiri Devathe Piriya Pattanadavale
Chikka Thangyamma Neenu Baare
Chikka Thangyamma Neenu Baare
Olidu Baarammayya Olidu Baare Bettada Chamundi Olidu Baare
Olidu Baarammayya Olidu Baare Bettada Chamundi Olidu Baare
Kara Mugidu Sharanendevu Chamundi
Varagalanu Paalisamma Chamundi
Amma Kara Mugidu Sharanendevu Chamundi
Varagalanu Paalisamma Chamundi
Mysuru Arasara Mane Devi Chamundi
Mysuru Arasara Mane Devi Chamundi
Jayisuvara Paalisamma Chamundi
Jayisuvara Paalisamma Chamundi
Amma Olidu Baarammayya Olidu Baare
Bettada Chamundi Olidu Baare
Olidu Baarammayya Olidu Baare
Bettada Chamundi Olidu Baare
Olidu Baarammayya Olidu Baare
Bettada Chamundi Olidu Baare
Navaratri Kannada Songs
Namo Namo Nataraja Manohari
Mahishoora Puravaasini Mahisha Mardhini
Yeddelu Sri Gowri Belagaayithu
Yellellu Neene Nelesiruve Devi
Navarathri Idu Navarathri
Sharanu Sharanu Jagadambike
Aadidalu Parvathy Naatyava
Nooraaru Aasegalu Beroori Manadalli
Comments
comments