July 27, 2018
Hinde Hinde Hogu Lyrics | Ayogya
Hinde Hinde Hogu Lyrics | Ayogya: Hinde Hinde Hogu is a Kannada song from an upcoming 2018 Kannada movie Ayogya, directed by Mahesh Kumar and produced by T. R. Chandrashekar under Crystal Park Cinemas banner. Ayogya is a romantic comedy movie featuring Sathish Ninasam, Rachitha Ram, P. Ravi Shankar, Tabla Nani, Chikkanna, Shivaraj K. R. Pete, Saritha, Rangayana Raghu and others. Aananda Audio is the music label of this movie. This song was composed by Arjun Janya with lyrics penned by Chethan Kumar. Hinde Hinde Hinde Hogu song was rendered by Sanjith Hegde.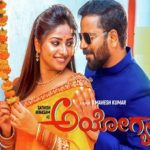 Hinde Hinde Hogu Lyrics
Movie: Ayogya [2018]
Music Label: Aananda Audio
Music: Arjun Janya
Lyrics: Chethan Kumar
Singer: Sanjith Hegde
Check out the lyrics here..
Hinde Hinde Hinde Hogu
Makkugudru Hinde Hogu
Kannu Hod'du Line Haaku
Sikkthaale Sundari
Munde Munde Munde Hogu
Hindebid Munde Hogu
Adda Bidru Thappe Illa
Ivale Ninna Kinnari
Edeyali Ivala Haavali Jasthi Aagide
Ninna Bittu Badukalaarenu Mansau Haadide
O Nandini O Nandini
Nee Nanna Praana Kane
Thu Nan Praana Yak Thinthiya Hogla
Hinde Hinde Hinde Hogu
Makkugudru Hinde Hogu
Kannu Hod'du Line Haaku
Sikkthaale Sundari
Coffee Shop Katti Koduve Maathanaade
Vaare Ganninalli Swalpa Nanna Node
Cinema-Ge Hogona Bike-U Hatthe
Ayyo Rama Baayigondu Laddu Bitthe
Kanasalu Maadthini Neetu
Miss Ildang Kodthini Treat-U
Preethili Barbaardu Doubt-U
Ninagaagi Hiditheeni Soutu
O Nandini Dear Nandini
Nee Nanna Life-U Kane
Thu Yaak Kwatle Kodthya Hogla
Hinde Hinde Hinde Hogu
Makkugudru Hinde Hogu
Kannu Hod'du Line Haaku
Sikkthaale Sundari
Neenu Yaake Ishta Aade Ishtu Syaane
Ninna Hesaru Hacche Haaki Kollalene
Henge Ninge Maaduvudu Impress-U
Matthe Matthe Aaguthaithe Nange Crush-U
Niyyatthaag Maadthini Love-U
Kanhod'du Maadthini Prove-U
Nanagyaake Kodtheeya Novu
Nannaane Maadalla Dove-U
O Nandini O Nandini
Nee Nanna Life-U Kane
Thu Ayogya Hogla
Hinde Hinde Hinde Hogu
Makkugudru Hinde Hogu
Kannu Hod'du Line Haaku
Sikkthaale Sundari
Ayogya [2018] Kannada Songs
Yenammi Yenammi
Hinde Hinde Hogu
Ayogya Title Song
Yenee Karmakalaa
Saakamma
Comments
comments