August 20, 2018
Yenee Karmakalaa Lyrics | Ayogya
Yenee Karmakalaa Lyrics | Ayogya: Yenee Karmakalaa is a Kannada song from an upcoming 2018 Kannada movie Ayogya, directed by Mahesh Kumar and produced by T. R. Chandrashekar under Crystal Park Cinemas banner. Ayogya is a romantic comedy movie featuring Sathish Ninasam, Rachitha Ram, P. Ravi Shankar, Tabla Nani, Chikkanna, Shivaraj K. R. Pete, Saritha, Rangayana Raghu and others.
Aananda Audio is the music label of this movie. This song was composed by Arjun Janya with lyrics penned by Chethan Kumar.  Yenee Karmakalaa song was rendered by Sunil Gunjagooda.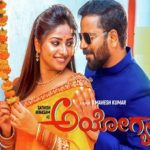 Yenee Karmakalaa Lyrics
Movie: Ayogya [2018]
Music Label: Aananda Audio
Music: Arjun Janya
Lyrics: Chethan Kumar
Singer: Sunil Gunjagooda
Check out the lyrics here..
Yenee Karma Kalaa
Life Damar Kalaa
Nanna Hudgi Yaaro Byarevna
Madve Aaithavl Kalaa
Yenee Karma Kalaa
Preethi Marma Kalaa
Ishta Pattavrella
Ishta Pattorge Sigakilla
Dyavru Kalla Kalaa
Kooley Kodthavn Kalaa
Yenne Bitkondrunu
Nove Kammi Aaitha Illaa..
Hudgir Changlu Kalaa
Gungu Iliyakillaa
Preethi Current Kambhad
Myaale Kuntha Kaage Kalaa..
Ye Nimmavva Mokkugithale Manege Nadila
Baddethadey No Tension
Baddethadey Haaku Medicine |4|
Ye.. Annanmaglu Subbavvan Magna
Yetthaakondu Hogbitlallaa..
Ye.. Shyammanna Maga
Roopannan Maavan Magala
Yetthaakondu Odogbitnallaa..
Nam Hudgi Yar Jothe Ododlaa..
Helo Macha
Nam Hudgi Yar Jothe Ododlaa..
Helo Macha
Moole Mane Geetha Kooda
Haakskond Bitlu Chappranaa..
Thotadmane Thara Kooda
Uyiskondbitlu Dhaarena..
Malligepurada Malli Kooda
Thandebitlu Thotlunaa..
Javrgowda Innu Kooda
Hele Illa Preethina
Yenne Hododu Aa Devru
Hane Baraha Bardavne
Yaarig Yaaru Siktharo
Confuse Maadi Bidthavne
Shiv Bitru Kooda Bidakkilla
Baddi Magan Love-U..
Kududu Kududu Yak Saithiya Maneg Hoglaa
Baddethadey No Tension
Baddethadey Haaku Medicine |4|
Collegenaage Bookku Iskondu
Kannu Hodedu Hodavlu
Businaage Jaaga Kottu
Pakdal Kooriskondavlu
Bulletnaage Hinde Kunthu
Oora Suthsu Andavlu
Bere Avna Pakdal Kunthu
Thaalig Korlu Kodthavlo
Elru Mane Dosenu
Thoothu Eddu Kaanthade
Preethi Maado Hudgurdu
Mansu Haalu Aaithade
Shiv Bitru Kooda Bidakkilla
Kwatle Kodthavle Kalaa
Belak Hardru Ilyaak Bidsaithira Maneg Hogurlaa
Baddethadey No Tension
Baddethadey Haaku Medicine |4|
Ayogya [2018] Kannada Songs
Yenammi Yenammi
Hinde Hinde Hogu
Ayogya Title Song
Yenee Karmakalaa
Saakamma
Comments
comments