March 12, 2022
List of Chief Ministers of Assam
List of Chief Ministers of Assam: Assam is a state in northeastern India, south of the eastern Himalayas along the Brahmaputra and Barak River valleys. Assamese and Bodo are the official languages of Assam, while Bengali is official in the Barak Valley.
Gopinath Bordoloi was the first Chief Minister of Assam, and Anwara Taimur, India's first female Muslim chief minister.
Since 1946, Assam has had 17 chief ministers. Ten of these belonged to the Indian National Congress.  Golap Borbora became the first non congress Chief Minister of Assam after winning the 1978 assembly elections.
Sarbananda Sonowal became the Assam's first chief minister from the Bharatiya Janata Party BJP when he was sworn-in on 24 May 2016.
Congressman Tarun Gogoi is the longest-serving officeholder, having served for 15 years from 2001 to 2016. On 9 May 2021, Himanta Biswa Sarma is announced as the 15th Chief Minister of Assam.
List of Chief Ministers of Assam
1. Gopinath Bordoloi
Born: 6 June 1890, Raha, Assam, British India
Died: 5 August 1950 (aged 60) Guwahati, Assam, India
Constituency: Kamrup Sadar (South)
Term: 26 January 1950 6 August 1950
Duration: 192 days
Party: Indian National Congress
2. Bishnuram Medhi
Born: 24 April 1888, Hajo, Assam Province, British India
Died: 21 January 1981 (aged 92)
Constituency: Hajo
Term: 9 August 1950 – 27 December 1957
Duration: 7 years, 140 days
Party: Indian National Congress
3. Bimala Prasad Chaliha
Born: 26 March 1912, Sivasagar
Died: 25 February 1971 (aged 58) Shillong
Constituency: Badarpur/Sonari
Term: 28 December 1957 – 6 November 1970
Duration: 12 years, 313 days
Party: Indian National Congress
4. Mahendra Mohan Choudhry
Born: 12 April 1908, Nagaon
Died: 27 December 1982 (aged 74)
Constituency: Guwahati East
Term: 11 November 1970 – 30 January 1972
Duration: 1 year, 80 days
Party: Indian National Congress
5. Sarat Chandra Singha
Born: 1 January 1914, Chapar, Assam Province, British India
Died: 25 December 2005 (aged 91) Guwahati, Assam, India
Constituency: Bilasipara East
Term: 31 January 1972 – 12 March 1978
Duration: 6 years, 40 days
Party: Indian National Congress
6. Golap Borbora
Born: 29 August 1926, Golaghat, Assam, British India
Died: 19 March 2006 (aged 79) Guwahati, Assam, India
Constituency: Tinsukia
Term: 12 March 1978 – 4 September 1979
Duration: 1 year, 176 days
Party:Janata Party
7. Jogendra Nath Hazarika
Born: 9 September 1924, Tengakhat Mawza, Assam, British India
Died: 2019, bhuwaneshwar Odisha
Constituency: Duliajan
Term: 9 September 1979 – 11 December 1979
Duration: 93 days
Party: Janata Party
8. Anwara Taimur
Born: 24 November 1936, Assam, British India
Died: 28 September 2020 (aged 83) Australia
Constituency: Dalgaon
Term: 6 December 1980 – 30 June 1981
Duration: 206 days
Party: Indian National Congress
9. Kesab Chandra Gogoi
Born: 29 September 1925
Died: 5 August 1998 (aged 72)
Constituency: Dibrugarh
Term: 13 January 1982 – 19 March 1982
Duration: 65 days
Party: Indian National Congress
10. Hiteswar Saikia
Born: 21 April 1936, Sivasagar, Assam, British India
Died: 5 October 1996 (aged 60), New Delhi, India
Constituency: Nazira
Term: 27 February 1983 – 23 December 1985
Duration: 2 years, 299 days
Party: Indian National Congress
11. Prafulla Kumar Mahanta
Born: 23 December 1952 (age 69) Nagaon
Constituency: Nowgong
Term: 24 December 1985 – 28 November 1990
Duration: 4 years, 339 days
Party: Asom Gana Parishad
12. Hiteswar Saikia
Born: 21 April 1936, Sivasagar, Assam, British India
Died: 5 October 1996 (aged 60), New Delhi, India
Constituency: Nazira
Term: 30 June 1991 – 22 April 1996
Duration: 4 years, 297 days
Party: Indian National Congress
13. Bhumidhar Barman
Born: 12 October 1931, Belsor, Nalbari, Assam, British India
Died: 18 April 2021 (aged 89) Dispur Hospital, Guwahati, Assam
Constituency: Barkhetry
Term: 22 April 1996 – 14 May 1996
Duration: 22 days
Party: Indian National Congress
14. Prafulla Kumar Mahanta
Born: 23 December 1952 (age 69) Nagaon
Constituency: Barhampur
Term: 15 May 1996 – 17 May 2001
Duration: 5 years, 2 days
Party: Asom Gana Parishad
15. Tarun Gogoi
Born: 1 April 1936, Rangamati, Assam, British India
Died: 23 November 2020 (aged 84) Guwahati, Assam, India
Constituency: Titabar
Term: 18 May 2001 – 24 May 2016
Duration: 15 years, 6 days
Party: Indian National Congress
16. Sarbananda Sonowal
Born: 31 October 1962, Mulukgaon, Assam, India
Constituency: Majuli
Term: 24 May 2016 – 10 May 2021
Duration: 4 years, 351 days
Party: Bharatiya Janata Party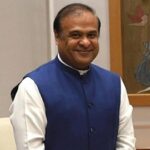 17. Himanta Biswa Sarma
Born: 1 February 1969, Jorhat, Assam, India
Constituency: Jalukbari
Term: 10 May 2021 – Incumbent
Duration: 305 days
Party: Bharatiya Janata Party
Related Articles
List of Chief Ministers of Karnataka
List of Chief Ministers of Uttar Pradesh
Comments
comments