November 29, 2017
Baa Nalle Baa Nalle Madhuchandrake Lyrics Meaning | Hamsalekha
Baa Nalle Baa Nalle Madhuchandrake Lyrics Meaning | Hamsalekha: Baa Nalle Baa Nalle is a song from 1993 Kannada movie Baa Nalle Madhuchandrake, directed by Nagathihalli Chandrashekar and based on the novel of same name written by him.
Baa Nalle Madhuchandrake features K. Shivram, Nandini Singh Prakash Rai, Sundar Raj, Karibasavaiah, Tennis Krishna, Nagathihalli Chandrashekar, Padma Kumata, H. G. Dattatreya, Ashok Rao and others. Lahari Music was the music label of this movie.
This song was composed Hamsalekha with Lyrics penned by Nagathihalli Chandrashekar. Baa Nalle Baa Nalle were rendered by S. P. Balasubrahmanyam and K. S. Chithra.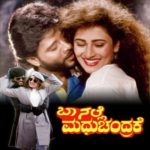 Baa Nalle Baa Nalle Lyrics
Movie: Baa Nalle Madhuchandrake
Music Label: Lahari Music
Music: Hamsalekha
Lyrics: Nagathihalli Chandrashekar
Singers: S. P. Balasubramanyam, K. S. Chithra
Check out the lyrics here…
Baa Nalle Baa Nalle Madhuchandrake
Baa Nalle Baa Nalle Madhu Manchake
Oho Oho Ohoohoo Oho Oho Ohoohoo
Baa Nalle Baa Nalle Madhuchandrake
Baa Nalle Baa Nalle Madhu Manchake
Oho Oho Ohoohoo Oho Oho Ohoohoo
Girishikhara Jalapaatha
Ella Beththale Illi Ella Beththle Illi
Allavene Allavene Balleyene Balleyene
Kanasugala Gurikaara Swapna Madiradaache
Swapna Madiradaache Moodi Baaro
Moodi Baao Haadu Baaro Koodu Baaro
Oho Oho Ohoohoo Oho Oho Ohoohoo
Baa Nalla Baa Nalla Madhuchandrake
Baa Nalla Baa Nalla Madhu Manchake
Oho Oho Ohoohoo Oho Oho Ohoohoo
Rathi Sukhake Jatheyaagu
Nagna Koteyaneri Nagna Koteyaneri
Nillu Baare Nillu Baare Gellu Baare Gellu Baare
Priya Sakhane Virahaagne
Benki Bandhanavilli Benki Bandhanavilli
Neegu Baaro Neegu Baaro Baala Thumba Saagi Baaro
Oho Oho Ohoohoo Oho Oho Ohoohoo
Baa Nalla Baa Nalla Madhuchandrake
Baa Nalla Baa Nalla Madhu Manchake
Oho Oho Ohoohoo Oho Oho Ohoohoo
Baa Nalle Baa Nalle Madhuchandrake
Baa Nalle Baa Nalle Madhu Manchake
Oho Oho Ohoohoo Oho Oho Ohoohoo
Baa Nalle Madhuchandrake Songs List
Bandaalo Bandaalo
Lyrics: Nagathihalli Chandrashekar
Singers: S. P. Balasubramanyam
Oho Himalaya
Lyrics: Hamsalekha
Singers: S. P. Balasubramanyam, Manjula Gururaj
Baa Nalle Baa Nalle
Lyrics: Nagathihalli Chandrashekar
Singers: S. P. Balasubramanyam, K. S. Chithra
Aa Bettadalli
Lyrics: Siddalingayya
Singers: S. P. Balasubramanyam
Comments
comments