November 29, 2017
Bandaalo Bandaalo Binkada Singari Lyrics Meaning | Hamsalekha
Bandaalo Bandaalo Binkada Singari Lyrics Meaning | Hamsalekha: Bandaalo Bandaalo Binkada Singari is a famous song from 1993 Kannada movie Baa Nalle Madhuchandrake, directed by Nagathihalli Chandrashekar and based on the novel of same name written by him.
Baa Nalle Madhuchandrake features K. Shivram, Nandini Singh Prakash Rai, Sundar Raj, Karibasavaiah, Tennis Krishna, Nagathihalli Chandrashekar, Padma Kumata, H. G. Dattatreya, Ashok Rao and others. Lahari Music was the music label of this movie.
This song was composed Hamsalekha with Lyrics penned by Nagathihalli Chandrashekar. Bandaalo Bandaalo were rendered by S. P. Balasubrahmanyam.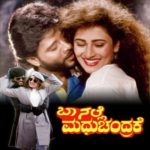 Bandaalo Bandaalo Binkada Singari Lyrics

Movie: Baa Nalle Madhuchandrake
Music Label: Lahari Music
Music: Hamsalekha
Lyrics: Nagathihalli Chandrashekar
Singers: S. P. Balasubramanyam
Check out the lyrics here…
Bandaalo Bandaalo Binkada Singaari
Bandaalo Bandaalo Chandira Chakori
Thandaalo Thandaalo Thandaalo Premada Siri
Bandaalo Bandaalo Binkada Singaari
Bandaalo Bandaalo Chandira Chakori
Malebilla Mele Ilijaaro Baale
Rathidevi Soundarya Savathi Nee
Kavithe Nee Kaayva Spoorthi Nee
Yedeyaaladolavu Hennagi Banda
Bhooloka Soundarya Raani Nee
Prana Nee Neelaveni Nee
Nakkaalo Nakkaalo Hunnime Haalanthe
Ukyaalo Ukyaalo Thungeya Neeranthe
Jeevanada Chandrodayake
Mai Manada Pranayaalayake
Bandaalo Bandaalo Binkada Singaari
Bandaalo Bandaalo Chandira Chakori
Thandaalo Thandaalo Thandaalo Premada Siri
Bandaalo Bandaalo Binkada Singaari
Bandaalo Bandaalo Chandira Chakori
Malenaada Sirige Manasothu Nintha
Hasiroora Girbaale Hennu Nee
Kannu Nee Baala Banna Nee
Naduraathriyalli Jalaraashi Mele
Guri Thoro Yekaantha Thaare Nee
Neere Nee Kaavyadhaare Nee
Moodyalo Moodyaalo Magiya Kanasanthe
Muthyalo Muthyalo Bechchane Muththanthe
Jeevanada Chandrodayake
Mai Manada Pranayaalayake
Bandaalo Bandaalo Binkada Singaari
Bandaalo Bandaalo Chandira Chakori
Thandaalo Thandaalo Thandaalo Premada Siri
Bandaalo Bandaalo Binkada Singaari
Bandaalo Bandaalo Chandira Chakori
Baa Nalle Madhuchandrake [1993] Songs List
Bandaalo Bandaalo
Lyrics: Nagathihalli Chandrashekar
Singers: S. P. Balasubramanyam
Oho Himalaya
Lyrics: Hamsalekha
Singers: S. P. Balasubramanyam, Manjula Gururaj
Baa Nalle Baa Nalle
Lyrics: Nagathihalli Chandrashekar
Singers: S. P. Balasubramanyam, K. S. Chithra
Aa Bettadalli
Lyrics: Siddalingayya
Singers: S. P. Balasubramanyam
Comments
comments