February 3, 2018
Bhagavantha Kaikotta Lyrics
Bhagavantha Kaikotta Lyrics: Bhagavantha Kaikotta is a super hit song from the 1968 Kannada movie Mannina Maga, written and directed by Geethapriya in his directorial debut. The film was produced by M V Venkatachalam and Alexandar under the banner Sudarshan Movies. The film was a great hit and went on to win National Film Award for Best Feature Film in Kannada.
Mannina Maga features Dr. Rajkumar, Kalpana, Jayakumari, M P Shankar, H R Shastry, Dikki Madhavarao, Niranjan, Vijayaprasad, Ashwath Narayana, Jaya, Shanthamma, Indiradevi, Leela, Jayachithra, Sumithra, Vijaya and others. Saregama was the music label of this movie.
This song was composed by Vijaya Bhaskar with lyrics penned by Geethapriya himself. This song Bhagavantha Kaikotta was rendered by P. B. Sreenivas.
This evergreen song talks about the social indifference's and how the people in power and wealth, misbehave with powerless poor people. This song has great moral lyrics by Geethapriya and PBS nails it with his effortless rendition. Great song. A timeless classic.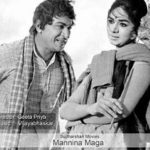 Bhagavantha Kaikotta Lyrics
Movie: Mannina Maga [1968]
Music Label: Saregama
Music: Vijaya Bhaskar
Lyrics: Geethapriya
Singer: P. B. Sreenivas
Check out the lyrics here..
Bhagavantha Kaikotta..
Bhagavantha Kaikotta Dhudiyokantha
Adanyaake Etthuve Hodeyokantha
Bhagavantha Kaikotta Dhudiyokantha
Adanyaake Etthuve Hodeyokantha..
Mansange Mansa Hedarthidnanthe.. Aavatthu
Mansanna Mansa Hedristhaane.. Eevatthu
Hedrosonu Kandre Hedruthiya
Hedrorna Kandre Hedristhiya
Munde Idre Hogalthiya
Hinde Idre Thegalthiya
Ondond Kshana Ondond Banna..Aa
Ondond Kshana Ondond Banna
Othikyathnang
Obru Sothna Nunghaaki..Ee
Obru Sothna Nunghaaki Baayig Bandang Baithiya
Eeg Nan Maath Osi Kelthiya
Bhagavantha Baaikotta.. Yake?
Bhagavantha Baaikotta Nudiyokantha
Adanyaake Thereyuve Baiyokantha
Bhagavantha Baaikotta Nudiyokantha
Adanyaake Thereyuve Baiyokantha
Maabaarthada Kaaldaage..
Obba Shakuni Idnanthe
Ee Kaaldaagu Ninnantha..
Eto Shakunigalu Avranthe
Ramayanada Raavananna Kollok Hutd'da Sriraama
Maabaarthada Keechkanna Thadkok Hutd'da Balbheema
Obba Raavanang Obba Raama..Aa
Obba Raavanang Obba Raama
Obba Keechkang Obba Bheema
Ninnanthorge Nannanthgama
Bhoomyagirthaaranthe
Ee Bhoomyagirthaaranthe
Ee Maathnu Osi Kelthiya
Bhagavantha Kaalkotta.. Yake?
Bhagavantha Kaalkotta Nadiyokantha
Adanyaake Etthuve Odiyokantha
Bhagavantha Kaikotta Dhudiyokantha
Adanyaake Etthuve Hodeyokantha
Mannina Maga [1968] Songs
Bhagavantha Kaikotta
Idhenu Sabhyathe
Bareyada Kaigalu
Mellage Nadeyole
Aluthihudhu Maanava
Comments
comments