August 31, 2018
Hey Jaleela Song Lyrics | Ambi Ning Vayassaytho
Hey Jaleela Song Lyrics | Ambi Ning Vayassaytho: Hey Jaleela Kanwarlala is song from an upcoming and one of the most anticipated Kannada movie of 2018 Ambi Ning Vayassaytho starring Rebel Star Ambareesh. Ambi Ning Vayassaytho was directed by Gurudattha Ganiga in his directoriall debut. The movie was produced by actor Sudeep and Jack Manju under the banner Kiccha Creatiions and KSK Showreel Productions.
Ambi Ning Vayassaytho star cast includes Ambareesh, Sudeep, Suhasini Maniratnam, Sruthi Hariharan and others. This film marks the comeback of actress Suhasini and Ambareesh combination after 14 years. This film is a remake of the 2017 Tamil movie Pa Paandi, which was produced, written and directed by Dhanush starring Rajkiran and Revathi.
Aananda Audio Video is the music label of this movie. This song was composed by music director Arjun Janya. The lyrics of this song was penned by director Prem of Jogi fame. Playback singer Vijay Prakash has lent his voice for the song Hey Jaleela Kanwarlala.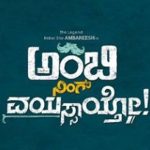 Hey Jaleela Song Lyrics
Movie: Ambi Ning Vayassaytho [2018]
Music Label: Aananda Audio Video
Music: Arjun Janya
Lyrics: Prem
Singer: Vijay Prakash
Check out the lyrics here..
Oh.. Ho.. Full Bottle Whiskey Eega Kud'dangaagade Hey..
Akasha Kaige Baaige Sikdangaagade Hey..
Mandyaada Gowdru Naduge Zoomallide..
Vayassaadru Nodo Nota Rockettangide..
Nange.. Ega.. Naatikoli Muddesaaru Undangaagade
Hey Jaleela Kanwarlala |4|
Hey Idenla Ambige Lottery Hod'dangaithe
Howda?
Nadila Naavu Onchooru Saala Geela Iskondbaruma
Oh.. Ho.. Ispeetalli Mooru Yakka Biddangaagade..
Kuberangene Saala Kottangaagade..
Ninnatha Shokilaala Yaarilla Kano..
Baidrronu Preethiyinda Baithiya Kano
Yako.. Yeno..
Race-Al Duddu Kattid Kudure Geddangaade
Hey Jaleela Kanwarlala |4|
Oh.. Ho.. Ambika Nanna Love Maad'dangaagde
Sumana Naanu Madve Adangaagade
Chali Chali Haadu Ninge Gnapak Bandaitha
Sunny Jothe Maleli Kuniyo Idea Bandiatha
Yako.. Yeno..
Sumke Iddawn Kardu Hennu Kottangaagde
Le Ambi Ee Vayasalli Lovuu Givvu
Anta Maathra Helbidbedappo
Hey Jaleela Kanwarlala |4|
Ho Ho Hoho Ho Ho Hoho
Hey Hey Heyhey Hey Hey Heyhey
Comments
comments