January 2, 2019
KGF Movie Review | Yash | Prashanth Neel
KGF Movie Review | Yash | Prashanth Neel: KGF a Kannada movie, directed by Prashanth Neel starring Yash released on 21st December 2018. The film was dubbed into Hindi, Telugu, Tamil and Malayalam languages as well. Despite a huge competition from Super star King Khan's movie Zero, KGF has not only emerged as a block buster but is also getting praises from other film industries too.
KGF was produced by Vijay Kiragandur under the banner Hombale films. KGF will two parts. The first part is KGF Chapter 1, followed by K.G.F: Chapter 2.
KGF Chapter 1 features Yash, Srinidhi Shetty, Ananth Nag, Malavika, Achut Kumar, Naga Bharana, Srinivas Murthy, Ayyapa, B. Suresh, Archana Jois, Roopa Rayappa, Dinesh Mangalur, Harish roi, Ninasam Ashwath, Avinash, Ram, Lucky, Vinay, Puneeth Rudranag, Master Anmol and others.
Synopsis
Ambitious Rocky (Yash) determined to come out as a rich person leaves his native village soon after his mother's death and goes to Mumbai. As time passes, he becomes a notable name in the crime world and this is when he gets an offer from a Bangalore based crime member to kill a big shot from the gold mining area KGF.  Will Rocky be able to the powerful person and come out without a scratch? To know this, you have to watch the film on the big screen.  I repeat, watch it on big screen and kill piracy.
KGF Movie Review
Major plus points:
The story and the screenplay are the major assets of the film. Yash who gave up two years solely for this movie is also one of the major reasons for the movie emerging as an all-time block buster and crossing 100 crores. His ruggish looks, rowdish mannerism and dialogue delivery are a treat to watch on silver screen. The sets and the back-ground music also add up to the charm of the film.
Brownie points: Anant Nag sir's narration and Tamannaah's item number.
Minus points:
The film has a slow-paced narration in the first half and story becomes interesting only after the intermission. The hype of the powerful man Garuda is not explored properly. The way he is portrayed, one will surely wonder why so much of hype for Garuda so much?
The director could have added a back story and justified why almost everyone was terrified of him. Commercial elements like comic relief is next to non-exist. Though I loved the director's determination not to get diverted from the main plot, comedy could have been added to make it a smooth ride.
Technical aspects:
Prashanth Neel, the director of the film has delivered an out and out commercial movie which not only reaches out to mass but also appeals to class (thanks to the mother- son sentiment). With a hero like Yash, who enjoys an immense fan base, Prashanth could have been easily side tracked and made hero larger than life with unnecessary build ups and self-praising dialogues.
Srikanth, has done a decent job of editing. I wish he could have trimmed 15 – 20 minutes and made the story fast paced. Nothing to say about the music composed by Ravi Basrur. The music though not that great, it serves its purpose.
Verdict:
KGF is definitely worth all the hype and the wait. Go watch the film, I bet you won't be disappointed. The director definitely knows what's he is doing. My Rating: 3.5/5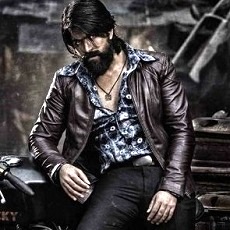 Movie: KGF Chapter 1
Director: Prashanth Neel
Producer: Vijay Kiraganduru
Cast: Yash, Srinidhi Shetty, Achyuth Kumar, Vashishta N Simha
Narrator: Anant Nag
Musician: Ravi Basrur
Cinematographer: Bhuvan Gowda
Editor: Shrikanth
Release date: 21st December 2018
Budget: 70 crores
You might also like
Salaam Rocky Bhai Song Lyrics Video Released
Dheera Dheera Song Lyrics Video Released
Comments
comments