March 18, 2018
O Kusumave Song Lyrics
O Kusumave Song Lyrics: O Kusumave is a song from the 1996 Kannada film Thavarina Thottilu, directed by S. Narayan and written by Ajay Kumar. The film was produced by Smt Bhagyavathi under the banner Shanthala Pictures. Thavarina Thottilu features Ramkumar, Charan Raj, Shruti, Srinivasa Murthy, Doddanna, Ashalatha, Rajanand, Padma Vasanthi, B. Jayamma, Dr Suresh Sharma, Goutham, Kavana and others. The film was remade into Tamil as Annan Thangachi directed by Charanraj.
Noted actor and film personality Charan Raj aslo know as Sharan Raj was born in Belagavi, Karnataka in 1958. He made his foray into film word in 1984 through a Kannada film Thaliya Bhagya. He went on to work in Tamil, Telugu, Malayalam, Odia and Hindi language movies. He made his directorial debut with a Tamil movie Annan Thangachi which wa a remake of 1996 Kannada film Thavarina Thottilu. some his notable work includes Gentleman, Indrudu Chandrudu, Veera, Dharma Dorai and Baasha.
Jhankar Music is the music label of this movie. This song was composed by Rajesh Ramanath with lyrics penned by S. Narayan himself. O Kusumave Song was rendered by singers Rajesh Krishnan and K. S. Chithra.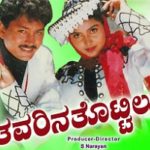 O Kusumave Lyrics
Movie: Thavarina Thottilu [1996]
Music Label: Jhankar Music
Music: Rajesh Ramanath
Lyrics: S. Narayan
Singers: Rajesh Krishnan, K. S. Chithra
Check out the lyrics here..
Oh Kusumave Kusumaadarpane
Hoo Nayanave Nayanaadaarpane
Hoo Adharave Adharadaarpane
Hoo Kavanave Kavanadaarpane
Eee Belakige Belakinaarpane
Hoo Kusumave Kusumaadarpane
Ushege Holapu Thrishege Saagari
Nishege Madhuvu Hanige Maadhuri
Ninna Kannaase Noorondu Maathaadade
Ee Thuti Mele Thadeyaaythu Horabarade
Ileye Thiliye Kaadambari
Thiliso Neene Sari
Hoo Kusumave Kusumaada Arpane
Kavana Bareva Tharuna Koodu Baa
Rameya Edeya Padade Moodi Baa
Idu Shrungaara Sangeetha Romaanchana
Madhu Mandaara Jenkaara Aalingana
Hareya Thereda Hoo Raajane
Kareye Rathiyaa Aalaapane
Thavarina Thottilu Song
O Kusumave
Arishina Kuttiravva
Malenadina Minchina Balli
O Bombeye Dalimbeye
Brahma Bareda Haaleyalli
Baaradu Barabaaradu
Comments
comments