March 18, 2018
Brahma Bareda Haaleyalli Song Lyrics
Brahma Bareda Haaleyalli Song Lyrics: Brahma Bareda Haaleyalli is a song from the 1996 Kannada film Thavarina Thottilu, directed by S. Narayan and written by Ajay Kumar. The film was produced by Smt Bhagyavathi under the banner Shanthala Pictures. Thavarina Thottilu features Ramkumar, Charan Raj, Shruti, Srinivasa Murthy, Doddanna, Ashalatha, Rajanand, Padma Vasanthi, B. Jayamma, Dr Suresh Sharma, Goutham, Kavana and others. The film was remade into Tamil as Annan Thangachi directed by Charanraj.
Noted actor and film personality Charan Raj aslo know as Sharan Raj was born in Belagavi, Karnataka in 1958. He made his foray into film word in 1984 through a Kannada film Thaliya Bhagya. He went on to work in Tamil, Telugu, Malayalam, Odia and Hindi language movies.  some his notable work includes Gentleman, Indrudu Chandrudu, Veera, Dharma Dorai and Baasha.
Jhankar Music is the music label of this movie. This song was composed by Rajesh Ramanath with lyrics penned by S. Narayan himself. Brahma Bareda Haaleyalli Song was rendered by singers S. P. Balasubrahmanyam.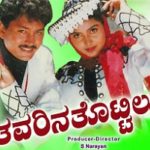 Brahma Bareda Haaleyalli Lyrics
Movie: Thavarina Thottilu [1996]
Music Label: Jhankar Music
Music: Rajesh Ramanath
Lyrics: S. Narayan
Singer: S. P. Balasubrahmanyam
Check out the lyrics here..
Brahma Bareda Haaleyalli Antya Yenide
Sukha Dikha Eradu Avana Suthradallide
Brahma Bareda Haaleyalli Antya Enide
Sukha Dikha Eradu Avana Suthradallide
Baliyaayithe Baduku Vidhiyaatake
Baliyaayithe Baduku Vidhiyaatake
Brahma Bareda Haaleyalli Antya Yenide
Sukha Dikha Eradu Avana Suthradallide
Yeke Aluve Baalinali Nova Kaleve
Daaha Tharuva Karulinali Naanu Bereve
Jeeva Kodo Daiva Ninna Naanu Nambide
Hasivu Kooda Ninna Nodi Maayavagide
Iralaare Naa Kshanavu Ninna Kaanade
Irulellavu Jagavu Neenillade
Brahma Bareda Haaleyalli Antya Yenide
Sukha Dikha Eradu Avana Suthradallide
Preethi Koduve Badathanada Bege Tholeve
Baaduthiruva Sumalatheye Neenu Naguve
Kanna Neeru Baaradaaythu Ninna Maathige
Chinthe Kooda Dooravaaythu Prema Bhashege
Nage Thumbida Baduku Hageyaayithe
Usiraatave Namage Horeyaayithe
Brahma Bareda Haaleyalli Antya Yenide
Sukha Dikha Eradu Avana Suthradallide
Brahma Bareda Haaleyalli Antya Yenide
Sukha Dikha Eradu Avana Suthradallide
Thavarina Thottilu Song
O Kusumave
Arishina Kuttiravva
Malenadina Minchina Balli
O Bombeye Dalimbeye
Brahma Bareda Haaleyalli
Baaradu Barabaaradu
Comments
comments