March 18, 2018
Arishina Kuttiravva Song Lyrics
Arishina Kuttiravva Song Lyrics: Arishina Kuttiravva is a song from the 1996 Kannada film Thavarina Thottilu, directed by S. Narayan and written by Ajay Kumar. The film was produced by Smt Bhagyavathi under the banner Shanthala Pictures. Thavarina Thottilu features Ramkumar, Charan Raj, Shruti, Srinivasa Murthy, Doddanna, Ashalatha, Rajanand, Padma Vasanthi, B. Jayamma, Dr Suresh Sharma, Goutham, Kavana and others. The film was remade into Tamil as Annan Thangachi directed by Charanraj.
Gururaj Hosakote is an Actor, Writer, Composer and Singer in Kannada film industry. He was born on 1948 in Mudhola, Bagalakote, Karnataka. He has song lot of folk songs also. some of his notable works are Sangya Balya, Thavarina Thottilu, Rama Shama Bhama, Jogi, Jogayya, Hudugaru and others.
Jhankar Music is the music label of this movie. This song was composed by Rajesh Ramanath with lyrics penned by S. Narayan himself. Arishina Kuttiravva Song was rendered by singers S. P. Balasubrahmanyam and Gururaj Hoskote.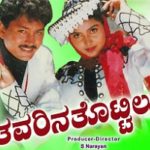 Arishina Kuttiravva Lyrics
Movie: Thavarina Thottilu [1996]
Music Label: Jhankar Music
Music: Rajesh Ramanath
Lyrics: S. Narayan
Singers: S. P. Balasubrahmanyam, Gururaj Hoskote
Check out the lyrics here..
Arishinava Kuttiravva Gandhava Theyiravva
Haalgenne Chendulliya Maigella Hachchiravva
Theneyannu Kiththu Thanniri
Goneyannu Hoththu Horadiri
Oorgella Chappara Haakiri
Madumagale Baaravva Mani Mele Kooravva
Hasi Maiyya Koosige Thili Neera Haakiravva
Sobaana Sobaana Haadannu Haadiravva
Mariyappa Maribeda Lagnakke Eeravva Barbeku Dharege
Shivnanja Oththare Bandbidappo Mangala Vaadyana Thandbidappo
Maadakka Baleyannu Thods Bekakko
Muniyappa Haarana Tharbekappo
Haalavva Nee Baare Thayakka Nee Baare
Kollappa Nee Baaro Karibasava Nee Baaro
Obbattinoota Gas Gase Paaysaa
Obbattinoota Gas Gase Paaysaa
Hogi Baa Hogi Baa Maguve
Thavarina Hasirina Naguve
Koti Janma Neenu Hutti Baaravva Madilige
Preethi Thoro Thaayi Roopa Tharavva Bettanige
Hogi Baa Hogi Baa Maguve
Thavarina Hasirina Naguve
Malligeya Mudisiri Mangalege
Madilannu Thumbiri Sumangalige
Kunkumava Hachchiri Nam Hennige
Aarathiya Belagiri Kasthurige
Ninnavara Maribeda Nimmoora Jaribeda
Haalunda Ee Manege Maathannu Tharabeda
Thavarina Thottilu Song
O Kusumave
Arishina Kuttiravva
Malenadina Minchina Balli
O Bombeye Dalimbeye
Brahma Bareda Haaleyalli
Baaradu Barabaaradu
Comments
comments