March 18, 2018
O Bombeye Dalimbeye Song Lyrics
O Bombeye Dalimbeye Song Lyrics: O Bombeye Dalimbeye is a song from the 1996 Kannada film Thavarina Thottilu, directed by S. Narayan and written by Ajay Kumar. The film was produced by Smt Bhagyavathi under the banner Shanthala Pictures. Thavarina Thottilu features Ramkumar, Charan Raj, Shruti, Srinivasa Murthy, Doddanna, Ashalatha, Rajanand, Padma Vasanthi, B. Jayamma, Dr Suresh Sharma, Goutham, Kavana and others. The film was remade into Tamil as Annan Thangachi directed by Charanraj.
Jhankar Music is the music label of this movie. This song was composed by Rajesh Ramanath with lyrics penned by S. Narayan himself. O Bombeye Dalimbeye Song was rendered by singers S. P. Balasubrahmanyam and K. S. Chithra.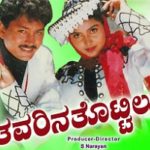 O Bombeye Dalimbeye Lyrics
Movie: Thavarina Thottilu [1996]
Music Label: Jhankar Music
Music: Rajesh Ramanath
Lyrics: S. Narayan
Singers: S. P. Balasubrahmanyam, K. S. Chithra
Check out the lyrics here..
Oo Bombeye Daalimbeye Oo Bombeye Daalimbeye
Belli Moodana Banna Thorana Neeenu
Chellu Cheluvina Chandadarasiye Neenu
Minchi Minuguva Thaare Sambhrama Aha Haha Haa
Naa Bombeyo Daalimbeyo Naa Bombeyo Daalimbeyo
Yelu Kadalina Premadaleyali Neeenu
Banna Moodalu Sanne Maadide Neeenu
Minchi Naluguva Thaare Sambhrama Aha Haha Haa
Hoo Oo Oo Iavalentha Hudugi
Hoo Oo Oo Kanna Kokko Bedagi
Hoo Oo Oo Namma Putta Veerana
Hoo Oo Oo Hosa Pattadarasi
Sanje Malle Sougandha Nalle Ninna Maathinda
Achchu Bellada Anda Inchche Aritha Sathiyanda
Kene Haalina Sihi Jenina Savigadalali Samsaara
Nage Goodina Ede Haadina Ale Ale Sanchaara
Oo Bombeye Daalimbeye Oo Bombeye Daalimbeye
Belli Moodana Banna Thorana Neeenu
Chellu Cheluvina Chandadarasiye Neenu
Minchi Minuguva Thaare Sambhrama Aha Haha Haa
Hoo Oo Oo Ivanentha Huduga
Hoo Oo Oo Kannu Belli Kadaga
Hoo Oo Oo Iva Kaddu Nodalu
Hoo Oo Oo Ooru Kaththalaayithu
Sakkareya Achchalli Akkareya Muththitte
Muththinali Kooditta Bombeyanu Naa Kotte
Oo Thingale Beladingale Nee Belagide Badukanu
Belakallina Holapalli Naa Savide Sukhavannu
Oo Bombeye Daalimbeye Oo Bombeye Daalimbeye
Belli Moodana Banna Thorana Neeenu
Chellu Cheluvina Chandadarasiye Neenu
Minchi Minuguva Thaare Sambhrama Aha Haha Haa
Naa Bombeyo Daalimbeyo Naa Bombeyo Daalimbeyo
Naa Bombeyo Daalimbeyo Naa Bombeyo Daalimbeyo
Thavarina Thottilu Song
O Kusumave
Arishina Kuttiravva
Malenadina Minchina Balli
O Bombeye Dalimbeye
Brahma Bareda Haaleyalli
Baaradu Barabaaradu
Comments
comments