July 1, 2022
Januma Jodi Aadaru Lyrics
Januma Jodi Aadaru Lyrics: Januma Jodi Aadaru is a super hit song from the 1996 Kannada film 'Janumada Jodi', directed by T. S. Nagabharana, based on a Gujarathi novel 'Malela Jiva' by Pannalal Patel. The film was produced by Smt Parvathamma Rajkumar under the banner Vaishnavi Combines.
Janumada Jodi features Shivarajkumar, Shilpa, Enagi Balappa, Amulya, Pavithra Lokesh, Rajeev, Ashok, Mukyamanthri Chandru, Karibasavaiah, Krishne Gowda, Honnavalli Krishna, Mandya Ramesh, Prakash Shenoy Radha Ramachandra, Jyothi Gurucharan, Shani Mahadevappa and others.
Januma Jodi Aadaru Song Lyrics were written and composed by music director V. Manohar. This song was rendered by Dr. Rajkumar.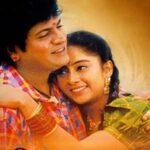 Januma Jodi Aadaru Lyrics
Movie: Janumada Jodi [1996]
Music: V. Manohar
Lyrics: V. Manohar
Singer: Dr. Rajkumar
Music Label: Akash Audio
Check out 'Januma Jodi Aadaru Song Lyrics' here..
Januma Jodi Aadaru Eke Anthara
Jeeva Jeeva Naduvali Eke Kandhara
Madhura Geethe Kooda Heegeke Ghora
Januma Jodi Aadaru Eke Anthara
Jeeva Jeeva Naduvali Eke Kandhara
Kadaleena Odalu Mugileena Sidilu
Male Minchu Seleda Baalellavu
Eleele Haniyu Mutthantha Maniyu
Birugaali Beesi Suliyaadavu
Nerebandu Sereyaaytu Edeyaaladi
Kanneere Maathaaytu Manadaaladi
Horage Nageya Leele Olage Jwaale
Januma Jodi Aadaru Eke Anthara
Jeeva Jeeva Naduvali Eke Kandhara
Kanasella Bendu Baridaago Badalu
Nanasaago Vele Barabaarade
Eejeevaveradu Ondondu Teera
Dadathoro Doni Sigabaarade
Shubhadashakunave Varavaagu Baa
Angaiyagereye Badalaagu Baa
Karagaleega Bega Karimugilu Doora
Januma Jodi Aadaru Eke Anthara
Jeeva Jeeva Naduvali Eke Kandhara
Madhura Geethe Kooda Heegeke Ghora
Janumada Jodi [1996] Songs List
Mani Mani Mani Mani
Lyrics: Baraguru Ramachandrappa
Singers: Shivarajkumar, Manjula Gururaj
Janumada Jodi Neenu
Lyrics: Doddarange Gowda
Singers: Rajesh Krishnan, Manjula Gururaj
Kolumande Janguma Devaru
Lyrics: Doddarange Gowda
Singer: L. N. Shastri
Aarathi Annammange
Lyrics: Doddarange Gowda
Singers: Rajesh Krishnan, Manjula Gururaj
Ivanyara Maganu
Lyrics: V. Manohar
Singers: Rajesh Krishnan, Manjula Gururaj
Dehavendare O Manuja
Lyrics: V. Manohar
Singer: Rajkumar
Januma Jodi Aadaru
Lyrics: V. Manohar
Singer: Rajkumar
O Oora Dyavare
Lyrics: V. Manohar
Singer: Manjula Gururaj
Seere Seere Seere
Lyrics: Sriranga
Singer: Sangeetha Katti
Comments
comments