July 1, 2022
O Oora Dyavare Lyrics
O Oora Dyavare Lyrics: O Oora Dyavare is a hit song from the 1996 Kannada film 'Janumada Jodi', directed by T. S. Nagabharana, based on a Gujarathi novel 'Malela Jiva' by Pannalal Patel. The film was produced by Smt Parvathamma Rajkumar under the banner Vaishnavi Combines.
Janumada Jodi features Shivarajkumar, Shilpa, Enagi Balappa, Amulya, Pavithra Lokesh, Rajeev, Ashok, Mukyamanthri Chandru, Karibasavaiah, Krishne Gowda, Honnavalli Krishna, Mandya Ramesh, Prakash Shenoy Radha Ramachandra, Jyothi Gurucharan, Shani Mahadevappa and others.
O Oora Dyavare Song Lyrics were written and composed by music director V. Manohar. This song was rendered by playback singer Manjula Gururaj.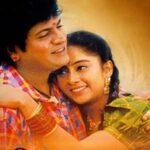 O Oora Dyavare Lyrics
Movie: Janumada Jodi [1996]
Music: V. Manohar
Lyrics: V. Manohar
Singer: Manjula Gururaj
Music Label: Akash Audio
Check out 'O Oora Dyavare Song Lyrics' here..
Ye..
O Oora Dyavre
O Bere Dyavre
Idhu Nyaana
Idhu Neethina
Nee Ekkut Hoga
Nin Mane Kaayvaaga
Mugsoke Kalsavne
Javraaya Bandra
Nodidru Sumkiddi
Ningavru Nentra
O Oora Dyavre
O Kroora Dyavre
Idhu Nyaana
Idhu Neethina
Nee Ekkut Hoga
Nin Mane Kaayvoga
Nagnagtha Ninthidlu Muddhaada Rathna
Udugola Beesidru Kuydrallo Kathna
O Oora Dyavre
O Bere Dyavre
Mutthina Nakthaithe
Katthina Saravaithe
Hane Myaale Kunthaithe Battu Baasinga
Dodseere Hutkondu
Harishina Hachkondu
Hasi Mane Yerthini Baaro Madhulinga
Ye ..
Ning Kob Hecchaaytha
Thale Ket Kervaaytha
Ning Ghara Badiya
Ning Kula Hidiya
Nin Sade Badiya
Nin Thale Odeya
O Oora Dyavre
O Ghoora Dyavre
Idhu Nyaana
Idhu Neethina
Nee Ekkut Hoga
Nin Mane Kaayvaga
Netthara Hrisoke Dhand Dhandu Bandru
Preethili Arlidda Gundgene Kithru
O Oora Dyavre
O Kuldu Dyavre
Mailige Illada
Mallige Hoovigu
Poojeya Velege Bantu Bara Sidilu
Sattharu Sariye
Suttaru Sariye
Nannavna Sevege Maathra Ee Odalu
Ye..
Nan Mane Murdhavne
Nan Edhe Odhone
Mulladavne
Nee Haalaaga
Nee Negad Beela
Ning Hula Beela
O Oora Dyavre
O Ketta Dyavre
Idhu Nyaana
Idhu Neethina
Nee Ekkut Hoga
Nin Mane Kaayvoga
Nagnagtha Ninthidlu Muddhaada Rathna
Udugola Beesidru Kuydrallo Kathna
O Oora Dyavre
Yaav Oora Dyavre
Janumada Jodi [1996] Songs List
Mani Mani Mani Mani
Lyrics: Baraguru Ramachandrappa
Singers: Shivarajkumar, Manjula Gururaj
Janumada Jodi Neenu
Lyrics: Doddarange Gowda
Singers: Rajesh Krishnan, Manjula Gururaj
Kolumande Janguma Devaru
Lyrics: Doddarange Gowda
Singer: L. N. Shastri
Aarathi Annammange
Lyrics: Doddarange Gowda
Singers: Rajesh Krishnan, Manjula Gururaj
Ivanyara Maganu
Lyrics: V. Manohar
Singers: Rajesh Krishnan, Manjula Gururaj
Dehavendare O Manuja
Lyrics: V. Manohar
Singer: Rajkumar
Januma Jodi Aadaru
Lyrics: V. Manohar
Singer: Rajkumar
O Oora Dyavare
Lyrics: V. Manohar
Singer: Manjula Gururaj
Seere Seere Seere
Lyrics: Sriranga
Singer: Sangeetha Katti
Comments
comments