July 1, 2022
Seere Seere Ellello Lyrics
Seere Seere Ellello Lyrics: Seere Seere Ellello is a song from the 1996 Kannada film 'Janumada Jodi', directed by T. S. Nagabharana, based on a Gujarathi novel 'Malela Jiva' by Pannalal Patel. The film was produced by Smt Parvathamma Rajkumar under the banner Vaishnavi Combines.
Janumada Jodi features Shivarajkumar, Shilpa, Enagi Balappa, Amulya, Pavithra Lokesh, Rajeev, Ashok, Mukyamanthri Chandru, Karibasavaiah, Krishne Gowda, Honnavalli Krishna, Mandya Ramesh, Prakash Shenoy Radha Ramachandra, Jyothi Gurucharan, Shani Mahadevappa and others.
Seere Seere Ellello Song Lyrics were written by Sriranga and the song was composed by music director V. Manohar. This song was rendered by playback singer Sangeetha Katti.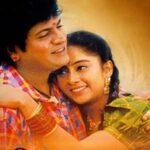 Seere Seere Ellello Lyrics
Movie: Janumada Jodi [1996]
Music: V. Manohar
Lyrics: Sriranga
Singer: Sangeetha Katti
Music Label: Akash Audio
Check out 'Seere Seere Ellello Song Lyrics' here..
Seere Seere Seere Ellello Haaraithe
Soore Soore Soore Mana Soore Maadaithe
Mecchi Banda Hennu Naa Mucchi Thinno Hannu
Ninna Myaale Bittu Nanna Mincinantha Kannu
Ondaagi Serona Odi Baa
Seere Seere Seere Ellello Haaraithe
Soore Soore Soore Mana Soore Maadaithe
Maavu Bevu Chiguridare Chaitra Vaishaakha
Maava Ninna Kandaaga Banthu Mai Shaakha
Nodu Hosa Hareya Maadi Mai Bisiya
Utta Seere Mai Mele Nilladu
Seragu Haari Nerige Jaari Hoyitu
Naduva Neenu Balasi Edeya Bisige
Prema Besuge Haaku Baa
Seere Seere Seere Ellello Haaraithe
Soore Soore Soore Mana Soore Maadaithe
Meccibanda Hennu Naa Mucchi Thinno Hannu
Ninna Myaale Bittu Nanna Mincinantha Kannu
Ondaagi Serona Odi Baa
Seere Seere Seere Ellello Haaraithe
Soore Soore Soore Mana Soore Maadaithe
Maagiya Kaaladalli Doora Irabyaada
Irulali Ontiyaagi Bittu Hogbyaada
Suriyo Maleyalli Koreyo Chaliyalli
Seraginalli Ninna Mucci Kolluve
Bogase Tumba Sukhava Hanci Kolluve
Indue Ndendu Neene Maava Nanna Jeeva Odi Baa
Seere Seere Seere Ellello Haaraithe
Soore Soore Soore Mana Soore Maadaithe
Meccibanda Hennu Naa Mucchi Thinno Hannu
Ninna Myaale Bittu Nanna Mincinantha Kannu
Ondaagi Serona Odi Baa
Seere Seere Seere Ellello Haaraithe
Soore Soore Soore Mana Soore Maadaithe
Janumada Jodi [1996] Songs List
Mani Mani Mani Mani
Lyrics: Baraguru Ramachandrappa
Singers: Shivarajkumar, Manjula Gururaj
Janumada Jodi Neenu
Lyrics: Doddarange Gowda
Singers: Rajesh Krishnan, Manjula Gururaj
Kolumande Janguma Devaru
Lyrics: Doddarange Gowda
Singer: L. N. Shastri
Aarathi Annammange
Lyrics: Doddarange Gowda
Singers: Rajesh Krishnan, Manjula Gururaj
Ivanyara Maganu
Lyrics: V. Manohar
Singers: Rajesh Krishnan, Manjula Gururaj
Dehavendare O Manuja
Lyrics: V. Manohar
Singer: Rajkumar
Januma Jodi Aadaru
Lyrics: V. Manohar
Singer: Rajkumar
O Oora Dyavare
Lyrics: V. Manohar
Singer: Manjula Gururaj
Seere Seere Seere
Lyrics: Sriranga
Singer: Sangeetha Katti
Comments
comments