May 15, 2018
Januma Namagiruvudu Lyrics | Lockup Death
Januma Namagiruvudu Lyrics | Lockup Death: Januma Namagiruvudu Onde Januma is a song from the 1994 Kannada movie Lockup Death, written and directed by Om Prakash Rao. The film was produced by Ramu for his Ramu Enterprises production banner.
Lockup Death features Devaraj, Nirosha, Saikumar, Prakash Rai, Shobhraj, Tennis Krishna, Vajramuni, Lokesh, Pradeep Shakthi, Doddanna, Rambo Rakhi, Honnavalli Krishna, Dingri Nagaraj, Lakshman, Avinash, Jayachithra, Janaki, Jyothi, Sathyabhama, Silk Smitha, Chikkanna, Prithviraj, G K Govinda Rao, Kunigal Nagabhushan, Lohithashwa and others.
Jhankar Music is the music label of this movie. This song was written and composed by one and only Hamsalekha. Januma Namagiruvudu song was rendered by singers S. P. Balasubrahmanyam.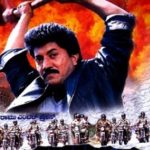 Januma Namagiruvudu Lyrics
Movie: Lockup Death [1994]
Music Label: Jhankar Music
Music: Hamsalekha
Lyrics: Hamsalekha
Singer: S. P. Balasubrahmanyam
Check out the lyrics here..
Januma.. Namagiruvudu Onde Januma..
Ee Janumadalirlai Dharma
Ulisu Dharma Rurururu..
Alisu Adharma Rurururu..
Geluvu Solu Ninade Konege Baara..
Prabu Neene Praje Neene
Bootu Thotta Bhoothagal Aache Atta Beku
Haalu Bidda Berugalanu Keelabeku
Dheenarannu Mauttadantha Kote Kattabeku
Koteyadi Bakshakarannu Mucchabeku
Naavu Kelade Nyaya Dakkadu
Naavu Kaayade Nyaya Baaladu
Padeyo Padeya Paathra Ninadu..
Prabu Neene Praje Neene
Januma.. Namagiruvudu Onde Januma..
Ee Janumadalirlai Dharma
Ulisu Dharma Rurururu..
Alisu Adharma Rurururu..
Geluvu Solu Ninade Konege Baara..
Prabu Neene Praje Neene
Booju Hidida Kattaleya Dhoolu Kodavabeku
Thaathanitta Thappugalanu Thiddabeku
Maarikollo Mathrigala Maana Bicchabeku
Jaarikollo Daarigalanu Mucchabeku
Naavu Elade Ooru Eladu
Naavu Saayade Swarga Kaanadu
Alisi Uliso Kaarya Ninadu
Prabu Neene Praje Neene
Januma.. Namagiruvudu Onde Januma..
Ee Janumadalirlai Dharma
Ulisu Dharma Rurururu..
Alisu Adharma Rurururu..
Geluvu Solu Ninade Konege Baara..
Prabu Neene Praje Neene
Lockup Death Kannada Songs Lyrics
Banthu Banthu Current Banthu
Oh Puttananja
Januma Namagiruvudu
Kachhikondaadona Baaro
Comments
comments