July 25, 2017
Kannale Kusuri Lyrics
Kannale Kusuri Lyrics: Kannale Kusuri is a song from an upcoming 2017 Kannada movie Once More Kaurava, directed by S. Mahendar. Once More Kaurava features Naresh Gowda, Anusha, Devaraj and others.
This song was composed by Shridhar V Sambaram with lyrics penned by K. Kalyan. Kannale Kusuri was rendered by Tippu and Sangeetha Ravindranath. Aananda Audio is the music label of this movie.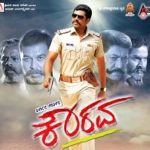 Kannale Kusuri Lyrics
Movie: Once More Kaurava [2017]
Music Label: Aananda Audio
Music: Shridhar V Sambaram
Lyrics: K. Kalyan
Singers: Tippu, Sangeetha Ravindranath
Check out the lyrics here..
Kannale Kusuri Kelasa Shuruvaaythu
Muththale Saane Hidiyo Manasaaythu
Nenapanella Nene Haaki
Gone Kattidanthe Kanasaaythu
Preethige Naavgale Okkaluu Yaavaagallu
Maathella Baagina Manasella Graameena
Kannale Kusuri Kelasa Shuruvaaythu
Muththale Saane Hidiyo Manasaaythu
Nenapanella Nene Haaki
Gone Kattidanthe Kanasaaythu
Preethige Naavgale Okkaluu Yaavaagallu
Maathella Baagina Manasella Graameena
Muttidodane Kumbaarikeya
Kalisuthide Ninnanda Ee Chandavo
Nadu Thambige Thale Kediside Ede Bindige
Naachidodane Nekaarikeya
Kaleyu Kaige Vashavaaythu
Singarisala Thuti Haasige
Hrudayaa Nan Gudisalu
Baare Kasa Gudisalu
Preethi Simpadisalu
Appode Kandaaya Oppode Besaaya
Kannale Kusuri Kelasa Shuruvaaythu
Muththale Saane Hidiyo Manasaaythu
Hullu Medeya Daariyali
Hunnimeya Bandi Ide
Hoon Endare Kammarike
Shuru Maadala Abhisaarike
Uththa Kaalu Molake Odedu
Manna Baagila Theredu
Horabaruvaa Aa Jeevanthike
Are Aa Aachaarike Nageya Nooluvike
Edeya Kula Kasubige
Aasene Soopaana Haadona Sobaana
Kannale Kusuri Kelasa Shuruvaaythu
Muththale Saane Hidiyo Manasaaythu
Once More Kaurava Songs
Illitanka Neenu
Malebil Yaake
Naanu Neenu
Kannale Kusuri
Kanneeru Geechida
Ondanondu
Save
Save
Comments
comments