July 25, 2017
Naanu Neenu Lyrics
Naanu Neenu Lyrics: Naanu Neenu is a song from an upcoming 2017 Kannada movie Once More Kaurava, directed by  S. Mahendar. Once More Kaurava features Naresh Gowda, Anusha, Devaraj and others.
Aananda Audio is the music label of this movie. This song was composed by Shridhar V Sambaram with lyrics penned by K. Kalyan. Naanu Neenu was rendered by M. L. R. Karthikeyan.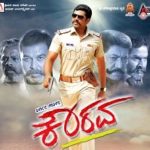 Naanu Neenu Lyrics
Movie: Once More Kaurava [2017]
Music Label: Aananda Audio
Music: Shridhar V Sambaram
Lyrics: K. Kalyan
Singer: M. L. R. Karthikeyan
Check out the lyrics here..
Naanu Neenu Aanu Thaanu Ella Onde Illi
Kottu Padeyovaaga Innu Bedha Bhaava Elli
Anna Thamma Akka Thangi Bandhu Balagadalli
Dweshavemba Maathu Maththe Baradu Badukinalli
Janganaka Janakanjaa Janganaka Jaa
Janganaka Janakanjaa Janganaka Jaa
Janganaka Janakanjaa Janganaka Jaa
Belago Soorya Rokka Kelodilla
Chaliso Chandra Dukha Helodilla
Sahaneinda Bhoomi Thiruguthilva
Namagena Kammi Nagutha Baaluvaan
Naanu Neenu Aanu Thaanu Ella Onde Illi
Kottu Padeyovaaga Innu Bedha Bhaava Elli
Dudime Iddare Nambike Ittare
Badava Kooda Raajanaguva
Olume Iddare Kshamisi Bittare
Shatru Kooda Preethi Maaduva
Gadde Pairu Hariyo Neeru
Yaava Jaathi Helonyaaru
Saaviginthalu Shane Doddadu
Raktha Hanchi Huttidoru Naavu
Raktha Chelli Kodalebeke Novu
Drushti Idda Haage Namma Srushtiyu
Aidu Beralu Seri Ondu Mushtiyu
Janganaka Janakanjaa Janganaka Jaa
Janganaka Janakanjaa Janganaka Jaa
Janganaka Janakanjaa Janganaka Jaa
Kuruda Kivudanu Mooga Helavanu
Endu Angavikalanallavo
Dayeye Illade Dharmave Ariyade
Iddava Saththa Vyarthavo
Hanava Nambi Meredorella
Manna Olage Henavaadralla
Baagi Nadedava Baanigeruva
Yaake Maadthi Nooru Kattupaadu
Avana Daari Avana Hottepaadu
Bandhava Bidisabeku Naavu Nammali
Baagilu Irale Baardu Yaava Maneyali
Janganaka Janakanjaa Janganaka Jaa
Janganaka Janakanjaa Janganaka Jaa
Janganaka Janakanjaa Janganaka Jaa
Naanu Neenu Aanu Thaanu Ella Onde Illi
Kottu Padeyovaaga Innu Bedha Bhaava Elli
Anna Thamma Akka Thangi Bandhu Balagadalli
Dweshavemba Maathu Maththe Baradu Badukinalli
Once More Kaurava Songs
Illitanka Neenu
Malebil Yaake
Naanu Neenu
Kannale Kusuri
Kanneeru Geechida
Ondanondu
Save
Comments
comments