July 25, 2017
Ondanondu Chandaadooru Lyrics
Ondanondu Chandaadooru Lyrics: Ondanondu is a song from an upcoming 2017 Kannada movie Once More Kaurava, directed by S. Mahendar. Once More Kaurava features Naresh Gowda, Anusha, Devaraj and others.
Aananda Audio is the music label of this movie. This song was composed by Shridhar V Sambaram with lyrics penned by K. Kalyan. Ondanondu was rendered by Shashank Sheshagiri.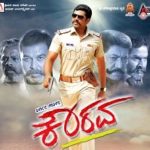 Ondanondu Chandaadooru Lyrics
Movie: Once More Kaurava [2017]
Music Label: Aananda Audio
Music: Shridhar V Sambaram
Lyrics: K. Kalyan
Singer: Shashank Sheshagiri
Check out the lyrics here..
Ondanondu Ondanondu Chandaadooru Iththu
Naalku Dikkal Nyaaya Neethi Naalku Kaalaliththu
Nelada Sobagu Holadaa Beragu
Savi Kannadadaage Kwaagleyaa Koogu
Anna Appa Agidda Thangi Avva Aagidlu Ajja Dyaavree Aagidda
Ooo Ooo Ooo Oooo
Ondanondu Ondanondu Chandaadooru Iththu
Hosilaa Daati Hennu Hogthirlilla
Sanje Daati Gandu Barthirlilla
Badava Dhanika Bhedha Goththirlilla
Devruu Dindru Innu Saththirlilla
Hennu Maaduthiddalu Dina Daana Dhyaanava
Gandu Kaayuthiddanu Avala Maana Praanava
Endu Oorge Oore Maathu Thappuththirlilla
Thappu Oppuththirlilla Yaargu Muppu Barlilla
Ondaanondu Ondaanondu Chandaadooru Iththu
Gunave Janara Goththu Guriyaagiththtu
Yelu Beelu Ella Sariyaagiththu
Maleyu Beleyu Praaya Padkondiththu
Manasu Manasu Preethi Madkondiththu
Alli Vyakthi Endare Kai Hidiyuthiddaru
Vyakthithva Endare Kai Mugiyuthiddaru
Moulya Endre Aduve
Alliththu Gourava Gatha Kaala Vaibhava
Allidda Kouravaaaaa …
Once More Kaurava Songs
Illitanka Neenu
Malebil Yaake
Naanu Neenu
Kannale Kusuri
Kanneeru Geechida
Ondanondu
Save
Save
Save
Comments
comments