March 13, 2018
Maagi Kaalada Hennu Lyrics
Maagi Kaalada Hennu Lyrics: Maagi Kaalada Hennu is a song from the 1997 Kannada movie Lakshmi Mahalakshmi, directed by Yogish Hunsur and written by Ajay Kumar. The film was produced by Nagarathna Kumar under the banner Sri Devi Films. Lakshmi Mahalakshmi features Shashikumar, Abhijith, Shilpa, Shwetha, Padmavasanthi, Pramila Joshai, Doddanna, Mukyamanthri Chandru, Sarigama Viji, Bank Janardhan, Sihikahi Chandru, Sathyabhama, Tennis Krishna, Jyothi, Ramamurthy and others.
The song was composed and written by Hamsalekha. Maagi Kaalada Hennu was rendered by Mano and K. S. Chithra.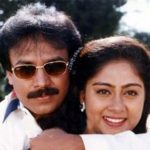 Maagi Kaalada Hennu Lyrics
Movie: Lakshmi Mahalakshmi [1997]
Music Label: N/A
Music: Hamsalekha
Singer: Mano, Chithra
Lyrics: Hamsalekha
Check out the lyrics here..
Maagi Kaalada Hannu Neenu Neenu
Ninna Muddisidaaga Jenu Jenu
Nija Nija Ninna Maathu Chinna
Thutigaligeke Biduvu Innu
Nija Nija Ninna Maathu Chinna
Pranayake Parade Yeke Inna
Maagi Kaalada Kichchu Neenu Neenu
Ninna Appugeyalli Naanu Naanu
Naale Nenapu Sihi Aagabeku Thaane
Adake Indu Muddadabeku Jaane
Baalu Indu Haguraaagabeku Thaane
Adake Preethi Chiguraagabeku Jaane
Aasege Kennege Sanje Rangu Banthu
Naachike Nodithu Seraginolage Ninthu
Maagi Kaalada Kichchu Neenu Neenu
Ninna Appugeyalli Naanu Naanu
Nija Nija Ninna Maathu Chinna
Pranayake Parade Yeke Inna
Nija Nija Ninna Maathu Chinna
Thutigaligeke Biduvu Innu
Maagi Kaalada Hannu Neenu Neenu
Ninna Muddisidaaga Jenu Jenu
Neenu Andre Ee Hareya Nilladamma
Hoova Baana Bachchitte Badukadamma
Manasu Preethi Kalethaaga Bandhavamma
Anda Chanda Kadedaaga Thandanamma
Baalina Chandira Poornanaagabeku
Andare Hennidu Thaayiyaagabeku
Maagi Kaalada Hannu Neenu Neenu
Ninna Muddisidaaga Jenu Jenu
Nija Nija Ninna Maathu Chinna
Thutigaligeke Biduvu Innu
Nija Nija Ninna Maathu Chinna
Pranayake Parade Yeke Inna
Maagi Kaalada Kichchu Neenu Neenu
Ninna Appugeyalli Naanu Naanu
Lakshmi Mahalakshmi Kannada Songs
Baaramma Badavara Manege
Mutthina Ungura
Maagi Kaalada Hennu
Hai Bengalore
Kaasina Mele Lokha
Comments
comments