March 13, 2018
Mutthina Ungura Lyrics
Mutthina Ungura Lyrics: Mutthina Ungura is a song from the 1997 Kannada movie Lakshmi Mahalakshmi, directed by Yogish Hunsur and written by Ajay Kumar. The film was produced by Nagarathna Kumar under the banner Sri Devi Films. Lakshmi Mahalakshmi features Shashikumar, Abhijith, Shilpa, Shwetha, Padmavasanthi, Pramila Joshai, Doddanna, Mukyamanthri Chandru, Sarigama Viji, Bank Janardhan, Sihikahi Chandru, Sathyabhama, Tennis Krishna, Jyothi, Ramamurthy and others. This song was composed and written by Hamsalekha. Mutthina Ungura was rendered by Mano and K. S. Chithra.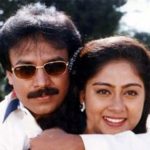 Mutthina Ungura Lyrics
Movie: Lakshmi Mahalakshmi [1997]
Music Label: N/A
Music: Hamsalekha
Singer: Mano, Chithra
Lyrics: Hamsalekha
Check out the lyrics here..
Mutthina Ungura Muththina Ungura
Needalu Aayithu Aaseya Ankura
Thanuvello Manavello
Ee Jeeva Ellello Thelaadide
Muththina Ungura Muththina Ungura
Needalu Aayithu Aaseya Ankura
Thanuvello Manavello
Ee Jeeva Ellello Thelaadide
Angagalella Adharagalaagi
Hasidiveyamma
Muththina Maleyahani
Hanigaagi Kaadideyamma
Naanu Karpoora Ninna Nota Angaara
Mai Bisi Aago Kushi Kushi Aago
Ee Sukha Romaanchaka
Hoyy Prema Mandara
Ninna Maathe Bangara
Nanna Karediruva Ee Biridiruva
Andada Aaradhaka
Muththina Ungura Muththina Ungura
Needalu Aayithu Aaseya Ankura
Thanuvello Manavello
Ee Jeeva Ellello Thelaadide
Athuradallu Avasaradallu
Swaragala Mela
Sambhramadalli Gocharavaaythu
Preethiya Aala
Jenugoodalli Raanige Jagarane
Savi Ganasalli Savi Nenapalli
Swargada Aalaapane
Prema Raajaninge Rathi Raathri Sweekarane
Oo Makaranda Nanna Olavinda Premada Santharpane
Muththina Ungura Muththina Ungura
Needalu Aayithu Aaseya Ankura
Thanuvello Manavello
Ee Jeeva Ellello Thelaadide
Muththina Ungura Muththina Ungura
Needalu Aayithu Aaseya Ankura
Thanuvello Manavello
Ee Jeeva Ellello Thelaadide
Lakshmi Mahalakshmi Kannada Songs
Baaramma Badavara Manege
Mutthina Ungura
Maagi Kaalada Hennu
Hai Bengalore
Kaasina Mele Lokha
Comments
comments