August 2, 2018
Manasa Sarovara Song Lyrics | Manasa Sarovara
Manasa Sarovara Song Lyrics | Manasa Sarovara: Manasa Sarovara is a famous Kannada song from the super hit movie Manasa Sarovara [Maanasa Sarovara], directed by Puttanna Kanagal. The film was produced by Varghese, Kamalakar, Smt Geetha Srinath, S R Puttanna Kanagal under the banner Mithra Vrunda Movies.
Manasa Sarovara was releasd in 1982 featuring Srinath, Padmavasanthi, Ramakrishna, Mysore Lokesh, Jai Jagadish, G. Pandithachar, Damayanthi, Vijaya Chamundeshwari, G. V. Shivanand, B K Shankar, Sandoor Saikumar, Chandrahasa, Nanjunda Arakalagodu, Anand Darwar, Sathyasandha, Gopalakrishna, Pandu, Janakiram, Bhavaniprasad, Sadanand, Koushik, Nagaveni, Chandrashekar, Rekha Rao, Vaishali and others. Sangeetha is the music label of this movie. This song was composed by Vijaya Bhaskar with lyrics penned by Vijaya Narasimha. Manasa Sarovara Song was rendered by renowned playback singers S. P. Balasubrahmanyam and Vani Jayaram.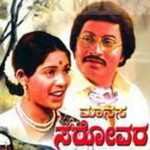 Manasa Sarovara Lyrics
Movie: Manasa Sarovara [1982]
Music Label: Sangeetha
Music: Vijaya Bhaskar
Lyrics: Vijaya Narasimha
Singers: S. P. Balasubrahmanyam, Vani Jayaram
Check out the lyrics here..
Manasa Sarovara
Hmmm Haadu Haadthiya ?
Manasa Sarovara Manasa Sarovara
Eeee Ninna Manase Manasa Sarovara A A A
Manasa Sarovara Manasa Sarovara
Eeee Ninna Manase Manasa Sarovara A A A
Manasa Sarovara
Sathya Sundara Jeevana Ranga
Nithya Nirmala Antharanga
Sathya Sundara Jeevana Ranga
Nithya Nirmala Antharanga
Aananda Needuva.. Aananda Needuva..
Aananda Needuva.. Raga Tarangaa
Aananda Needuva.. Raga Tarangaa
Anupama Yogada Jeeva Ganga
Anupama Yogada Jeeva Ganga
Maanasa Sarovara Maanasa Sarovara
Eeee Ninna Manase Manasa Sarovara A A A
Maanasa Sarovara Maanasa Sarovara
Eeee Ninna Manase Manasa Sarovara A A A
Santhasa Leeleya Hamsa Vihaara
Swarga Seemeya Kausthuba Haara
Santhasa Leeleya Hamsa Vihaara
Swarga Seemeya Kausthuba Haara
Soundarya Lahariya Lahari Lahari Lahari
Soundarya Lahariya Lahari Lahari Lahari
Soundarya Lahariya Lahari Lahari Lahari
Madhura Sanchaara
Soundarya Lahariya Lahari Lahari Lahari
Madhura Sanchaara
Veda Maatheyu Naliyuva Theera
Veda Maatheyu Naliyuva Theera
Manasa Sarovara Manasa Sarovara
Eeee Ninna Manase Manasa Sarovara A A A
Manasa Sarovara Kannada Song Lyrics
Neene Saakida Gini
Manasa Sarovara
Chanda Chanda Sangaathi Notave
Haadu Haadu
Vedanthi Helidanu
Keliranna Keli
Comments
comments