August 2, 2018
Vedaanthi Helidanu Song Lyrics | Manasa Sarovara
Vedaanthi Helidanu Song Lyrics | Manasa Sarovara: Vedaanthi Helidanu Honnella Mannu is a famous Kannada song from the super hit movie Manasa Sarovara [Maanasa Sarovara], directed by Puttanna Kanagal. The film was produced by Varghese, Kamalakar, Smt Geetha Srinath, S R Puttanna Kanagal under the banner Mithra Vrunda Movies.
Manasa Sarovara was releasd in 1982 featuring Srinath, Padmavasanthi, Ramakrishna, Mysore Lokesh, Jai Jagadish, G. Pandithachar, Damayanthi, Vijaya Chamundeshwari, G. V. Shivanand, B K Shankar, Sandoor Saikumar, Chandrahasa, Nanjunda Arakalagodu, Anand Darwar, Sathyasandha, Gopalakrishna, Pandu, Janakiram, Bhavaniprasad, Sadanand, Koushik, Nagaveni, Chandrashekar, Rekha Rao, Vaishali and others. Sangeetha is the music label of this movie. This song was composed by Vijaya Bhaskar with lyrics penned by G. S. Shivarudrappa. Vedaanthi Helidanu Honnella Mannu Song was rendered by the legendary playback singer P. B. Sreenivas.
Padma Vasanthi a Kannada Actress. Some of her memorable films are Maanasa Sarovara (1982) Bettada Hoovu (1985), Mussanje Mathu (2008), Thavarina Thottilu (1996), Care of Footpath (2006), Prithvi (2010) and others.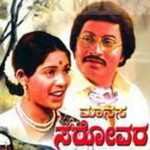 Vedanthi Helidanu Lyrics
Movie: Manasa Sarovara [1982]
Music Label: Sangeetha
Music: Vijaya Bhaskar
Lyrics: G. S. Shivarudrappa
Singer: P. B. Sreenivas
Check out the lyrics here..
Vedaanthi Helidanu Honnella Mannu Mannu
Kaviyobba Haadidanu Mannella Honnu Honnu
Vedaanthi Helidanu Honnella Mannu Mannu
Kaviyobba Haadidanu Mannella Honnu Honnu
Vedaanthi Helidanu Ee Hennu Maaye Maaye
Kaviyobba Kanavarisidanu O Ivale Cheluve
Ivala Jotheyali Naanu Swargavane Gelluve
Swargavane Gelluve
Vedaanthi Helidanu Honnella Mannu Mannu
Kaviyobba Haadidanu Mannella Honnu Honnu
Vedaanthi Helidanu Ee Baduku Shoonya Shoonya
Kavi Ninthu Saaridanu O Idu Alla Shoonya
Janmajanmadi Savide Naaneshtu Dhanya
Savide Naaneshtu Dhanya
Vedaanthi Helidanu Honnella Mannu Mannu
Kaviyobba Haadidanu Mannella Honnu Honnu
Vedaanthi Helidanu Honnella Mannu Mannu
Kaviyobba Haadidanu Mannella Honnu Honnu
Mannella Honnu Honnu
Mannella Honnu Honnu
Manasa Sarovara Kannada Song Lyrics
Neene Saakida Gini
Manasa Sarovara
Chanda Chanda Sangaathi Notave
Haadu Haadu
Vedanthi Helidanu
Keliranna Keli
Comments
comments