August 2, 2018
Chanda Chanda Sangaathi Notave Chanda Lyrics | Manasa Sarovara
Chanda Chanda Sangaathi Notave Chanda Lyrics | Manasa Sarovara: Chanda Chanda Sangaathi Notave Chanda is a famous Kannada song from the super hit movie Manasa Sarovara [Maanasa Sarovara], directed by Puttanna Kanagal. The film was produced by Varghese, Kamalakar, Smt Geetha Srinath, S R Puttanna Kanagal under the banner Mithra Vrunda Movies.
Manasa Sarovara was released in 1982 featuring Srinath, Padmavasanthi, Ramakrishna, Mysore Lokesh, Jai Jagadish, G. Pandithachar, Damayanthi, Vijaya Chamundeshwari, G. V. Shivanand, B K Shankar, Sandoor Saikumar, Chandrahasa, Nanjunda Arakalagodu, Anand Darwar, Sathyasandha, Gopalakrishna, Pandu, Janakiram, Bhavaniprasad, Sadanand, Koushik, Nagaveni, Chandrashekar, Rekha Rao, Vaishali and others.
Sangeetha is the music label of this movie. This song was composed by Vijaya Bhaskar with lyrics penned by M. N. Vyasarao. Chanda Chanda Sangaathi Notave Chanda Song was rendered by noted playback singer P. Jayachandran.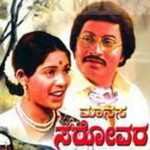 Chanda Chanda Lyrics
Movie: Manasa Sarovara [1982]
Music Label: Sangeetha
Music: Vijaya Bhaskar
Lyrics: M. N. Vyasarao
Singer: P. Jayachandran
Check out the lyrics here..
Chanda Chanda Sangaathi Notave Chanda
Anda Anda Gulaabi Thotave Anda
Chanda Chanda Sangaathi Notave Chanda
Anda Anda Gulaabi Thotave Anda
Himada Manige Endendu Thaavare Dhyana
Rasika Manake Shrugaara Kaavyada Dhyana
Himada Manige Endendu Thaavare Dhyana
Rasika Manake Shrugaara Kaavyada Dhyana
Dumbhige Sumada Makaranda Heeruva Dhyana
Girige Mugila Koogi Chumbiso Dhyana
Koogi Chumbiso Dhyana
Chanda Chanda Sangaathi Notave Chanda
Anda Anda Gulaabi Thotave Anda
Vanake Chanda Vasantha Kogile Gaana
Kaviya Kalege Cheluvu Needida Gaana
Vanake Chanda Vasantha Kogile Gaana
Kaviya Kalege Cheluvu Needida Gaana
Bhoomige Soorya Chandrara Belakina Dhyana
Premige Priyala Baachi Appuva Dhyana
Baachi Appuva Dhyana
Chanda Chanda Sangaathi Notave Chanda
Anda Anda Gulaabi Thotave Anda
Chanda Chanda Sangaathi Notave Chanda
Anda Anda Gulaabi Thotave Anda
Sangaathi Notave Chanda
Gulaabi Thotave Anda
Sangaathi Notave Chanda
Manasa Sarovara Kannada Song Lyrics
Neene Saakida Gini
Manasa Sarovara
Chanda Chanda Sangaathi Notave
Haadu Haadu
Vedanthi Helidanu
Keliranna Keli
Comments
comments