January 28, 2018
Mannalli Biddonu Lyrics
Mannalli Biddonu Lyrics: Mannalli Biddonu Mugilalli Eddanu is a very famous and evergreen song from a 1993 Kannada Movie Chinnari Muththa, Directed by T. S. Nagabharana and produced by Nagini Bharana, Saroja, G. Nandakumar. Chinnari Muththa features H. G. Dattatreya, Master Vijay Raghavendra, Avinash, Krishne Gowda, Ashok Badaradinni, Jayaram, K. S. Sridhar, Master Pavan Kumar, Master Yashu Raj and others. Akash Audio was the music label of this movie.
Chinnari Muththa movie awarded as Best Feature Film in Kannada at 41st National Film Awards. Also this movie has won many awards such as Best Children Film award, Best Music Director (C. Aswath) award, Best male Child Actor award and Best Female Playback Singer award.
All songs were composed by C. Ashwath with lyrics penned by H. S. Venkateshamurthy. Mannalli Biddonu Song was beautifully rendered by Ajith, Baby Rekha, Sangeetha, Ardhana, Samanvitha.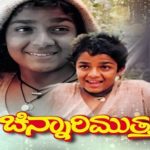 Mannalli Biddonu Lyrics
Movie: Chinnari Muththa [1993]
Music Label: Akash Audio
Music: C. Ashwath
Lyrics: H. S. Venkateshamurthy
Singers: Ajith, Baby Rekha, Sangeetha, Ardhana, Samanvitha
Check Out The Lyrics Here…
Mannalli Biddonu Mugilalli Eddanu
Kathlalli Iddonu Bangaara Geddanu
Hegidda Hegada Goththa Namma Chinnari Muththa
Namma Chinnari Muttha |Mannalli|
Muththa Muththa Muththa Chinnari Mutta|4|
Mettidda Kaddanu Kaddoduthiddonu
Manemana Kaddanu Naadanne Geddanu
Mettidda Kaddanu Kaddoduthiddonu
Manemana Kaddanu Naadanne Geddanu
Hegidda Hegada Goththa Namma Chinnari Muttha
Namma Chinnari Muttha
Mannalli Biddonu Mugilalli Eddanu
Kathlalli Iddonu Bangaara Geddanu
Muththa Muththa Muththa Chinnari Mutta|4|
Beedili Sikkonu yekaangi Dikkonu
Namaginnu Sikkanu Baanalli Nakkanu
Beedili Sikkonu Ekaangi Dikkonu
Namaginnu Sikkanu Baanalli Nakkanu
Hegidda Hegada Gotta Namma Chinnari Muttha
Namma Chinnari Muttha
Mannalli Biddonu Mugilalli Eddanu
Kathlalli Iddonu Bangaara Geddanu
Muththa Muththa Muththa Chinnari Mutta|4|
Illidde Haadona Haadi Kondaadona
Chandira Raamana Chandava Nodona
Illidde Haadona Haadi Kondadona
Chandira Raamana Chandava Nodona
Hegidda Hegada Gotta Namma Chinnari Muttha
Namma Chinnari Muttha
Mannalli Biddonu Mugilalli Eddanu
Kathlalli Iddonu Bangaara Geddanu
Muththa Muththa Muththa Chinnari Mutta|4|
Chinnari Mutha Songs:
Mannalli Biddonu
Rekke Iddare Saake
Naavu Irruvaaga Ningenu Chinthe
Maarisha Maarisha Vruksha Kanye Maarisha
Myale kaavu kondaav Mungaaru Moda
Halli Mukka Muthu
Chandra Ninge Karune Irli
Eshtond Jana Illi Yaaru
Chinnari Mutta Hakthidda
Ondu Eradu Mooru Nalku Kaiyyan Nelak
Oduva Seri Oduva
Comments
comments