February 3, 2018
Mannina Maga Song Lyrics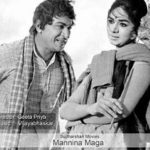 Mannina Maga Song Lyrics: Mannina Maga is a 1968 Kannada movie Mannina Maga, written and directed by Geethapriya in his directorial debut. The film was produced by M V Venkatachalam and Alexandar under the banner Sudarshan Movies. The film was a great hit and went on to win National Film Award for Best Feature Film in Kannada.
Mannina Maga features Dr. Rajkumar, Kalpana, Jayakumari, M P Shankar, H R Shastry, Dikki Madhavarao, Niranjan, Vijayaprasad, Ashwath Narayana, Jaya, Shanthamma, Indiradevi, Leela, Jayachithra, Sumithra, Vijaya and others. Saregama was the music label of this movie.
Songs were composed by Vijaya Bhaskar with lyrics penned by Geethapriya himself. Songs were rendered by legendary P. Susheela, P. B. Sreenivas and S. Janaki
Check out the lyrics here..
Bhagavantha Kaikotta Lyrics
Movie: Mannina Maga [1968]
Music Label: Saregama
Music: Vijaya Bhaskar
Lyrics: Geethapriya
Singer: P. B. Sreenivas
Idhenu Sabhyathe Lyrics
Movie: Mannina Maga [1968]
Music Label: Saregama
Music: Vijaya Bhaskar
Lyrics: Geethapriya
Singer: P. Susheela
Bareyada Kaigalu Lyrics
Movie: Mannina Maga [1968]
Music Label: Saregama
Music: Vijaya Bhaskar
Lyrics: Geethapriya
Singer: S. Janaki
Mellage Nadeyole Lyrics
Movie: Mannina Maga [1968]
Music Label: Saregama
Music: Vijaya Bhaskar
Lyrics: Geethapriya
Singer: P. Susheela
Aluthihudhu Maanava Lyrics
Movie: Mannina Maga [1968]
Music Label: Saregama
Music: Vijaya Bhaskar
Lyrics: Geethapriya
Singer: P. B. Sreenivas
Comments
comments