March 5, 2018
Markettinalli Ella Rate Lyrics
Markettinalli Ella Rate Lyrics: Markettinalli Ella Rate is a song from the 1993 kannada movie Kalyana Rekhe, directed by M. S. Rajashekar and produced by M. Sadanand. The film was based on the novel written by Sai Suthe. Kalyana Rekhe features Kanasina Raani Malashri, Shashikumar, Thoogudeepa Srinivas, Shubha, Doddanna, K. S. Ashwath, Sundar Krishna Urs, S. K. Bhagavan, Girija Lokesh, Ashalatha, M. S. Umesh and others.
Sangeetha was the music label of this movie. This song was composed and written by Hamsalekha. Markettinalli Ella Rate was rendered by Rajesh Krishnan and Manjula Gururaj.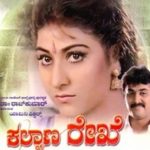 Markettinalli Ella Rate Lyrics
Movie: Kalyana Rekhe [1993]
Music Label: Sangeetha
Music: Hamsalekha
Lyrics: Hamsalekha
Singers: Rajesh Krishnan, Manjula Gururaj
Check out the lyrics here..
Markettinalli Ella Rate-u
Gaganakker Hoythu
Hudugeer Hinde Suththo
Huduga Rate- Ilidoyhtu
Jigi Jaan Jigi Jaan Jigi Jaana
Hoy Jigi Jaan Jigi Jaan Jaan
Bengloor Nalli Kannada Haidara
Sankhye Ilidoythu
Kandor Hinde Suththo Hudugeera
Mande Hechchaaythu
Jigi Jaan Jigi Jaan Jigi Jaana
Hoy Jigi Jaan Jigi Jaan Jaan
Hudugeerna Kenakodu Adventure Anthaare
Grahachaara Kett Hodre Puncture Agoythare
One Way Hudugara Yochaneye
Kichakaraago Soochaneye
Hudugeerge Soundarya Advantage Anthaare
Soundarya Kai Kotre Damage Agogthaare
Hudugara Sarisama Haaridare
Circus Cheluveyaraagivire
Shaving Baathing Sleeping Illa
Hudugi Sigadidre
Loving Lifing Linking Illa
Huduga Sigadidre
Cricket Nalli Indian Hudugara
Score-re Ilidoythu
Hudugeergaagi Fielding Maador
Sankhye Yer Hoythu
Jigi Jaan Jigi Jaan Jigi Jaana
Hoy Jigi Jaan Jigi Jaan Jaan
Otada Raani Odod Bittu
Maduve Madkondlu
Odada Raani Hudugara Hinde
Odod Kalthkondlu
Jigi Jaan Jigi Jaan Jigi Jaana
Hoy Jigi Jaan Jigi Jaan Jaan
Hayyayyo Nodrappo Anyaaya Kelrappo
Varadakshine Kottaythu
Maguvannu Heththaaythu
Scooter Aasege Yajamaana
Hendathi Biduvudu Sariyena
Appappa Thadiyappa Naanalla Idarappa
Shishunaala Idarappa
Saamanya Allappa
Makkala Heruvalu Naaladali
Hudugara Hidivalu Mosadali
Baadge Pant-u Baadge Suite-u
Khaali Olagella
Kaddide Seere Kaddide Langa
Swantha Ondilla
Ohh My Guruve Save Me Save Me
I Will Hold Your Feet
From This Bad Boy
Indiyan Tradition Going To Defeat
Guruve Guruve Guruve
Brundaavana Guru Guruve
Guruve Guruve Guruve
Brundaavana Guru Guruve
Remake Alli Kannada Cinema
Dhaakhale Maadthanthe
Kannada Hudugi Raayara Gudiyali
English Haad'dlanthe
Guruve Guruve Guruve
Brundaavana Guru Guruve
Guruve Guruve Guruve
Brundaavana Guru Guruve
Kalyana Rekhe Songs Lyrics
Oh Maina Oh Sakhi
Dayamaadi Mannisu Nannanu
Nagu Andare Naguthaale
Oh Chaithrane Sanmithrane
Kalyaana Rekhe Ee Baalina
Markettinalli Ella Rate
Comments
comments