March 5, 2018
Oh Chaithrane Sanmithrane Lyrics
Oh Chaithrane Sanmithrane Lyrics: Oh Chaithrane Sanmithrane is a song from the 1993 kannada movie Kalyana Rekhe, directed by M. S. Rajashekar and produced by M. Sadanand. The film was based on the novel written by Sai Suthe. Kalyana Rekhe features Kanasina Raani Malashri, Shashikumar, Thoogudeepa Srinivas, Shubha, Doddanna, K. S. Ashwath, Sundar Krishna Urs, S. K. Bhagavan, Girija Lokesh, Ashalatha, M. S. Umesh and others.
Sangeetha was the music label of this movie. This song was composed and written by Hamsalekha. Oh Chaithrane Sanmithrane was rendered by S. P. Balasubrahmanyam and Manjula Gururaj.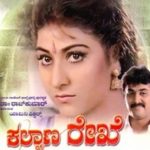 Oh Chaithrane Sanmithrane Lyrics
Movie: Kalyana Rekhe [1993]
Music Label: Sangeetha
Music: Hamsalekha
Lyrics: Hamsalekha
Singers: S. P. Balasubrahmanyam, Manjula Gururaj
Check out the lyrics here..
Oh Chaithrane Ohh Chaithrane
Ohh Chaithrane Sanmithrane
Ee Baalige Baa Baa
Ohh Chaithrane Sanmithrane
Ee Baalige Baa Baa
Anuraagada Shruthi Meetutha
Kukkukoo Kukkukoo Yedeyali Haado
Oo Mugdhale Sanmithrale
Ee Chaithrake Baa Baa
Oo Mugdhale Sanmithrale
Ee Chaithrake Baa Baa
Anuragada Shruthi Meetutha
Kukkukoo Kukkukoo Yedeyali Haado
Haaadu Kelutha Jeeva Jaarithu
Maathanaadade Ninna Serithu
Varuna Bandare Dharani Oliyale
Tharuna Bandare Tharuni Oliyale
Oo Mugdhale Sanmithrale
Ee Chaithrake Baa Baa
Ohh Chaithrane Sanmithrane
Ee Baalige Baa Baa
Anuragada Shruthi Meetutha
Kukkukoo Kukkukoo Yedeyali Haado
Baalu Chigurithu Aase Phalisithu
Maathu Maagithu Bhaashe Oliyithu
Maleya Billina Varuna Thorana
Hrudaya Kaanalu Neene Thaane Kaarana
Ohh Chaithrane Sanmithrane
Ee Baalige Baa Baa
Ohh Chaithrane Sanmithrane
Ee Baalige Baa Baa
Anuragada Shruthi Meetutha
Kukkukoo Kukkukoo Yedeyali Haado
Oo Mugdhale Sanmithrale
Ee Chaithrake Baa Baa
Oo Mugdhale Sanmithrale
Ee Chaithrake Baa Baa
Anuragada Shruthi Meetutha
Kukkukoo Kukkukoo Yedeyali Haado
Kalyana Rekhe Songs Lyrics
Oh Maina Oh Sakhi
Dayamaadi Mannisu Nannanu
Nagu Andare Naguthaale
Oh Chaithrane Sanmithrane
Kalyaana Rekhe Ee Baalina
Markettinalli Ella Rate
Comments
comments